So after a whole week of fashion reviews, you bag snobs out there must be craving bags so here is a rundown, with detailed love it or hate it chatter to come. Big bags are here to stay, along with the big belts. We are seeing metallic for Spring, which makes us happy because honestly, who doesn't love shiny things?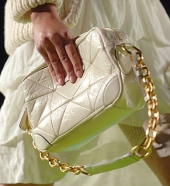 The most anticipated bag designer of course is Marc Jacobs. We were harsh on him but he is good at coming back with what works, which makes it boring for us cuz now we have nothing new to say, but good for buyers who won't have to use their brains. Yes, more quilted Chanel style chain bags. This cream with larger quilting will be something we will be seeing a lot of. He also had some largely embellished bags, which are super fab, but didn't Prada do that a while back? We do love the chunky blocky with giant flower accessories on the runway.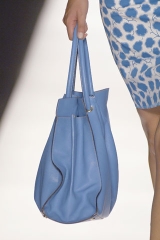 We are quite pleased with Oscar de la Renta's relaxed tote. The blue is truly to die for and it is going to make me buy an entire closet of ice blue for Spring. This tote isn't quite slouchy which we are tired of, the structured handles gives it the polish Snob girls look for. If the New York Times say designers are describing this season's look as "collapsed", then I would call this the "collapsed" Birkin.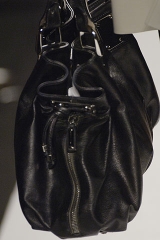 Michael Kors' collection is not what critics are used to but I like it. Why can't he change it up a little? He's got a TV career now – he doesn't have all that time to tailor suits. It's very 80's; off the shoulder, layers, he still likes the leggings which I'm concerned about, but there were a few dresses that were cute enough to warrant an overall love it review. As for his bags, I'm only mentioning it because these are the kind of bags that everyone will be using but nobody talks about. It's utilitarian with enough style to make it through the day, which says a lot if you are a regular person who just needs to carry stuff around.