I am loving the influx of talented young Asian designers recently (and I'm not biased just cuz I'm Asian :). The favorites, Peter Som and Derek Lam, delivered strong collections with rave reviews. Their Park Avenue clients should find plenty to buy for luncheons and social galas next spring.
Peter Som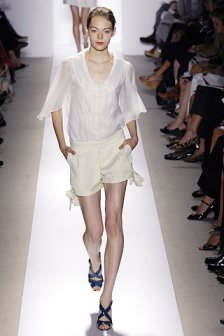 "I was thinking about pared-down luxury—not minimalism," the designer said. "My aim was to spin texture and tone with a light touch." Which he succeeded with this to die for collection of light palette colors ranging from dove gray to buttercream with shots of navy for evening. I love the juxtaposition of the floaty frocks mixed with jackets in jaquard and burlap fabrics, it gave the collection more depth and texture while retaining the lightness he strove for. Can I also say how cute Peter is with his cherub face and sweet smile?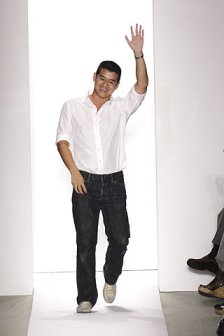 Derek Lam
One of my personal favorites is back with an incredible collection. Derek loosened up his silhouette for spring with crisp raw silk A-line shifts and traded Stretch Merino Wool Legging
for full trousers (thank god cuz no one over the age of 16 should wear leggings outside the gym) but kept his signature draped goddess style gowns that I adore.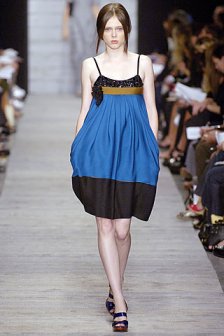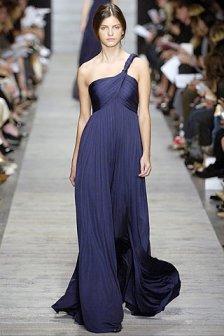 We also discovered a few new favorites on 7th Ave who are sure to take the fashion industry by storm.
Richard Chai
Chai said his goal with this collection was to "make artfully crafted, special pieces that can be worn casually," we love the gauzy dresses with folded pleats and structured coats he showed in shades of cream and baby blue.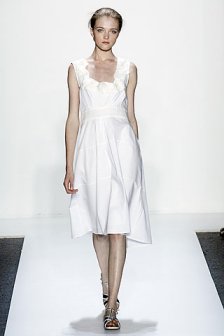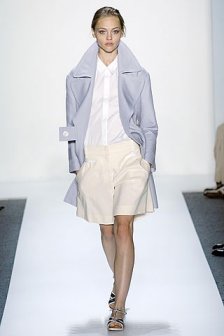 Akiko Ogawa
Japanese designer Akiko Ogawa looks like the quintessential girl next door and her collection for the most part was filled with figure flattering dresses in layers of eyelet lace and cinched waists which is perfect for a girly girl like me. I also loved the belted trench coats, it's so chic to wear as a dress. She showed them with stockings which I won't be wearing but is perfectly acceptable if you're Angelina Jolie and a man-eater.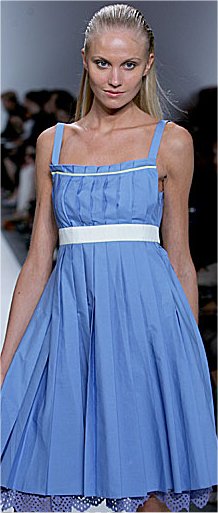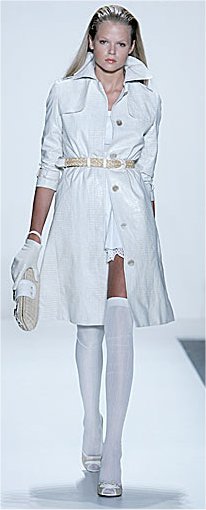 Y & Kei
"Young Couture" was the theme of Hanii Yoon and Gene Kang of Y & Kei's latest collection. Lots of bows, intricate embroidery, and appliqued lace make for one of the prettiest collections of the week.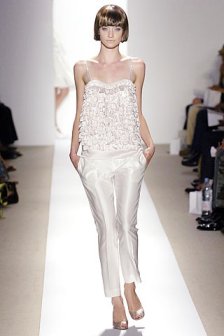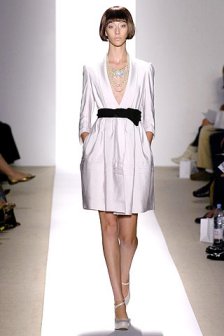 Jason Wu
So he's only 23 years old and he's bettern known for designing dolls but with his second collection, Taiwanese designer Jason Wu has proven he's a force to be reckoned with in the fashion world. This is an incredible collection that shows his diversity and maturity as a designer, whether it's a playful chiffon blouse with shorts or a drop dead white evening gown cinched with a black sequined belt, Jason delivers it all perfectly. He's recently signed an exclusive with Saks Fifth Avenue- you can find his fabulous creations at the New York, Bevery Hills, and San Francisco locations.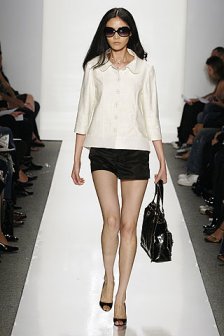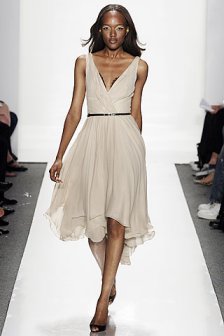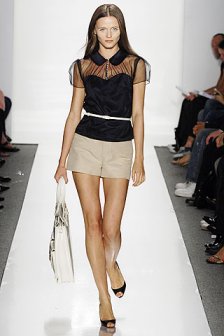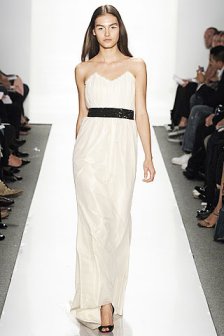 Photos courtesy of Style.com and IMG