For the girl, or girls, on your list with impeccable taste, here are Bag Snob's sure to please bags for the generous Santa in you.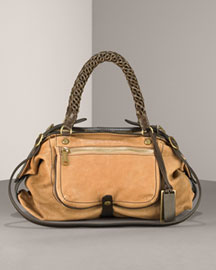 Gryson Skye Bag $695.
Joy Gryson is the hot designer right now – one look at the Skye bag and you'll know why. We love the slouchy body without it being a sloppy hobo, it is edgy and fun yet completely put together. The sophisticated braided handle polishes what is otherwise a casual bag. This bag make you look like you're at the top of the game without having to pay for it, at $695 it is perfect for the hipster on your list.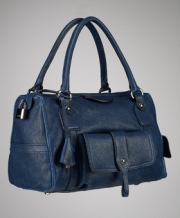 Tod's Bensonville in Dark Jean
$1390. For the extremely lucky girl with great taste, go all out with sheer perfection. This is our favorite bag of the year. Tod's hit perfection with the Bensonville, the shape of the bag is all classic but the pocket detail and distressed leather adds the touch it needs to be young and hip. And the dark jean is hands down the best color. The color works the same way as demin, goes with just about everything but unlike denim, this bag will be the spotlight of any outfit. This is one of the few bags both the Bag Snobs own multiple colors and sizes of (the calf hair with python trim is oh-so lush!).
VBH clutch $695. The clutch is fantastic as a gift because it is something everyone needs but not necessarily invests in. For the Bag Snob, clutches are essential, and not just for the evening. That is why this VBH clutch is so great, it goes from day to night effortlessly, especially in dark gray metallic. This is something that will get a lot of mileage and that's what you look for in a gift, right? She'll be thinking about you for a long long time!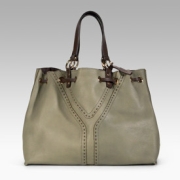 YSL reversible tote $995. There is a practical girl inside all of us but that doesn't mean we have to cheat on style. This super swanky leather tote is reversible, the "Y" stitched detailing is on both sides, making this 2 bags for the price of one! This is perfect for the style savvy professional on your list. $995.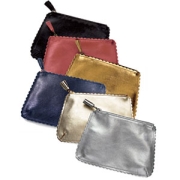 Allegra Silver Leather pouch $95. Short on budget but not on taste? Get the Allegra Silver Leather pouch for only $95. You can pretty much give this to all the ladies on your list, it's great for cosmetics, traveling (at 8 1/2″ x 5 1/2″, it'll fit a passport and all your traveling docs) or baby essentials (diaper cream, Purell, extra socks etc.). It comes in 6 colors so you can get multiple colors for the organizer on your list.