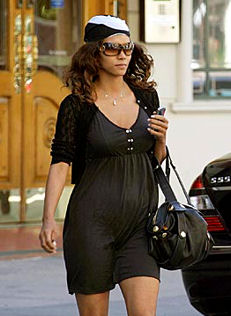 You guys are getting so good at this we had to think up ways to make it harder 🙂 Okay, so this week's pop quiz is a little different. We have two divas, each carrying a great bag, Eva Longoria's silver stunner and Halle Berry's urban chic carrier. You must identify both bags correctly to win the engraved Bag Snob bag hook. Leave your answers in comments, first person to answer BOTH bags correctly wins! We'll announce the winner tonight. Good luck!!!
UPDATE: Congrats to Irena for identifying the two bags correctly first. Eva has the Gerard Darel metallic python bag in her clutches. Halle is sporting the Gustto Small Baca Handbag
. Congrats!!! Please email us your mailing address so we can ship the bag hook to you asap!
(Yes, Eva's bag resembles the Michael Kors python bag but the bag has gathers on the side, Michael's bag has straight sides with the ties. The bags do look uncannily alike… Michael Kors' version is fairly new but the Gerard Darel bag has been around forever, hmmmm)
On a side note, who's style do you prefer?
Source: People.com