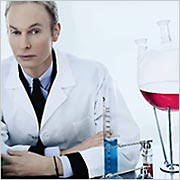 I'm probably going to get in trouble or receive threatening emails from PR folks over this comment but I am going to say it anyway. Stay away from products hawked by celebrity doctors! Let's first talk about Dr. Perricone, much as I agree with him about antioxidants( I ate blueberries and salmon by the pound when his book came out! I've actually been obsessed with blueberries my whole life and Kelly is convinced that is why I am such a genius- haha), I do not like his products! I purchased the entire NV Perricone line when it debuted but had to return it all within 3 days. Why did I take it all back? Because my face broke out in a serious rash (and I have tough skin that can stand the strongest acids and peels!).
Since then, I have tried products from Dr. Brandt (I know he uses more botox on earth than any other doctor but my question is does he use it all on himself? Look at his photo on upper left, he looks like a wax figure.) and Dr. Wexler, two of the most high profile dermatologists in the US. Again, I was sorely disappointed. And remember Michelle's disaster with Park Avenue Dermatologist Dr. Neal Shultz' products? It became obvious to me that being a great dermatologist and a genius with a botox needle doesn't always translate to high quality skincare. I became curious as to why physician lines are so popular since most of them do not even hold up to drug store lines like Olay (at least for me) and the answer was clear. Not everyone can afford to be treated by doctors with celeb clientele (or get in as most are booked 6 months in advance), so they opt for buying the products and fool themselves into thinking that they look like Jennifer Aniston. Which is why so many doctors are cashing in on their clients' fame.
After trying so many different lines from Celeb Doctors, my conclusion is you might as well buy from Victoria Principal or Cher on QVC, or better yet, run to the nearest CVS and try Olay's Regenerist line. At least with Olay Regenerist you'll see results without spending a fortune.
So that's my two cents but what do you think? Products from Skin Docs, worth it or not?
Beauty Snob note: I am not against all doctor created product lines, just the ones listed above that I have tried and have found to be over-hyped. All info in article is my personal opinion based on experiences with the products mentioned.