To kick off the launch of our newest website, Tot Snob, we asked one of the most fabulous mommies in New York to be our Snob File profile this week. Cristina Greeven Cuomo, wife of Good Morning America's Chris Cuomo, Vice President & Publishing Director of Niche Media and most importantly, mother of two bouncing toddlers, has graciously agreed to share her tips on staying a yummy mummy with our readers! A native New Yorker, Cristina is of Brazilian and German descent (her great-grandfather was the German Minister of State who founded the Orient Express in the early 1900s!). She is a graduate of Cornell University and she founded and ran the lifestyle magazine, Manhattan File, as Publisher and Editor-in-Chief for seven years before launching Niche Media with Jason Binn.
In addition to her role at Niche Media, Cristina has recently been tapped by internationally renowned skin care line, Natura Bisse, to be its US Ambassador. As the new face of Natura Bisse, Cristina will make personal appearances at US events and visit NB's labs and spas in Spain in order to fully embrace its vision. I can not think of anyone more perfectly suited for this role than Cristina, a woman who relies on healthy skin instead of cosmetics to stay gorgeous. Her natural beauty is as inspiring as her dedication to family and community. As if her schedule is not full enough with two small children and a demanding career, Cristina is an avid supporter of the New York Public Library, The New York Botanical Gardens, HELP and Mentoring USA, among other charities.
We know you will enjoy getting a peek into her busy life as Cristina is the ultimate embodiment of the modern woman, one who knows how to have her Loubies and walk in them too!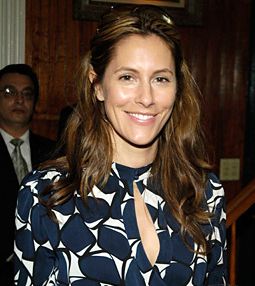 Beauty Snob: How do you balance being the wife of a high profile television personality, a mother of two and your career? I have yet to sleep through the wake-up blackberry calypso music at 4 a.m., but otherwise, its success lies in sticking to a schedule. It is more of a juggling act than one of balance.
Beauty Snob: Favorite Natura Bisse products?
The Inhibit-Tensolift is my favorite. I put that on a budding wrinkle at night, and in the morn it is a faint memory. I also love the Diamond collection. The DNA mask, the gel anti-aging, bio-regenerative moisturizing cream, and the glyco peels. Oh! and the eye bright really reduces my early morning bags and dark circles, which only intensify per year and per child.
Beauty Snob: Beauty Secret for staying gorgeous with two young kids?
Not sure about gorgeous, but in order to stay natural looking I can never go a day without my products. I concentrate the Natura Bisse products on those areas that seem to fade first–hands, eyes, forehead. And, sun block, of course, 12-months a year is a skin-saver. Excercise is key–and I don't do enough of it.
Beauty Snob: Our readers will want to know this- favorite bag?
I have this cool Brazilian ornamented bohemian bag from Tory Burch that she gave me for my birthday that I love to use every day of the summer I am out in Southampton.
Beauty Snob: Fashion fixation?- I am a product of the seventies so I love anything bohemian–from wide-bottomed Hudson jeans to a flowy Roberto Cavalli caftan-dress. I have these Reef flip flops in lime green I can't seem to take off my feet either, which, when you have to run after children, becomes a uniform.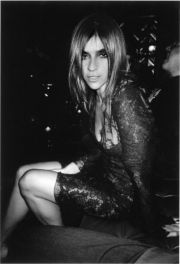 Beauty Snob: Style Icons?
I love women whose dressing style choices suit their physique like Anna Wintour and Carine Roitfeild.
Beauty Snob: Edible Addictions?
Dark chocolate, any cheese, rack of lamb that only my husband knows how to grill perfectly.
Beauty Snob: What are your hobbies?
Reading, writing poetry, water-skiing, skiing, tennis.
Beauty Snob: Your Must reads?
Any Paulo Coelho book–as well as his latest one, THe Witch of Portobello. He always gives you insight into yourself by talking about other people.
Beauty Snob: What is the Soundtrack to your life?
The Alman Brothers' Melissa, Stevie Wonder's Overjoyed, Bob Dylan's Corina, Corina & Baby Blue & Visions of Johanna, Van Morrison's Tupelo Honey, every song on Nick Drake's Five Leaves Left, Kings of Leon's first album, Johnnny Cash's Bird on a Wire, Bruce Springsteen's Born to Run, The Jerry Garcia Band's Love in the Afternoon.
Beauty Snob: Tell us your Guilty pleasures
Teuscher's champagne truffles, stinky cheeses, red wine.
Beauty Snob: Do you have a Secret talent?
I make the perfect bites.
(Beauty Snob note: Yummy Mummy indeed!)
Beauty Snob: Favorite Vacation spot? – Jackson Hole, Wyoming. Our house in Southampton, Long Island–right where I am sitting.
Beauty Snob: When was the last time you laughed?
With my 1 1/2 year-old-son Mario when we logged onto my computer minutes ago to look at the new Baby Einstein video.
Beauty Snob: Favorite childhood memor(ies)?
Picking mushrooms on a drizzling fall day out in the woods with my aunt Veronica and cousins Nina and Philip, visiting my relatives in Brazil and waking up to their parrots every morning, eating breakfast with my Vovo (Brazilian grandfather) and the moment he gave me a gold heart pendant, and sitting on my dad's lap when he let me drive his 1970 Mercedes.