Update: Okay, finally time to put you out of your misery and reveal the winner. Only one fashion savvy reader was able to identify this as a Jay Godfrey frock. Congrats Megan! Don't miss our next pop quiz at 2pm EST
Update: Wow, I finally stumped you! Okay, here is a hint, the first name of this designer starts with J. I will post the winner tomorrow!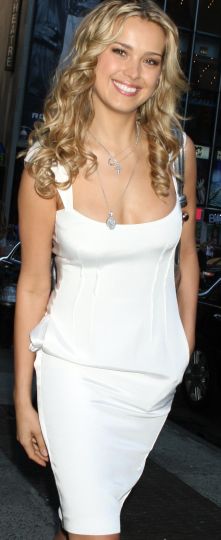 Okay gang, we're going to top off our first week of daily pop quizzes with the stunning Petra Nemcova. Have I given away the answer you ask? No, I've just changed things up a bit to make it more interesting. Today I will need you to tell me the designer of Petra's fabulous white dress. First person who gets it right will win the Awake bronzer set. Leave your answers in comments and don't enter more than once please, I always wait a few hours before posting answers to make it more exciting and people can't copy you 🙂 Game Rules here. Sponsored by Awake Cosmetics. Happy Friday everyone and have a great weekend! I will be spending the weekend thinking up more games for us to play so check back often!