There is way too much information out there to process each season; with designers and magazines frantically throwing bags at us hoping for something to catch on, how can we distinguish the crap from the gems? Well I have taken it upon myself once again to guide you through the mess, I mean the looks of the season (my husband says I am nosy but I maintain I am HELPFUL!)
5 tips to update your Fall Bag Wardrobe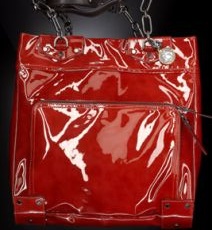 1. Bold Color – Do not be afraid of electric blue (like the Jimmy Choo clutch we're giving away) or this fire engine red Lanvin bag! These bold colors will instantly take you from drab to fab this Fall! Lanvin at Barneys New York.
2. Geometric Shape – Modern and sleek, a square tote or clutch will keep you up to date. We love this 'Flash clutch' from Sang A (a designer you will read more about later)!
3. Patent – A bit of glossy shine is a surefire way to spark up an old outfit. The Mulberry purple patent leather tote is surprisingly wearable and affordable $995. Mulberry available at Net-a-Porter. Anya Hindmarch Lautner and Lapnack navy patent bags are also fab for Fall!
4. Metallic – Your silver Lanvin bag from last spring will still work through Fall, punch it up with a fuschia dresss and black tights and you'll be ready to rock for Fall!
5. Exotic Skin – Crocs, anaconda/pythons, lizards and ostrich, pick one or all, you can't go wrong! Frugal snobs can opt for leather embossed croc to get the same look.
So remember:
#1: Go Bold with Color!
#2: Geometric Shapes will modernize your wardrobe.
#3: Shine on with patent leather!
#4: Keep last season's metallic.
#5: Go Exotic with ostrich or a lux Valextra croc!
Bag Snob note: Remember, you do not have to buy new things each season to stay current. Shop your own bag wardrobe (or your mother's!) before you run out to the mall! You will be surprised at how many unique finds you will come up with. Vintage stores are also chock full of inexpensive treasures (especially crocodile bags from the '50s and '60s!), just make sure you check for stains and tears before purchasing.
Lastly, it is not WHAT you carry but HOW you carry it! Be confident and throw some sass in your attitude and you will be Absolutely Snob-ulous every season!