UPDATE: Congrats to Elaine for identifying this buffed out celeb as Claire Danes!!! Your Bag Snob Bag Hook will be shipped to you soon!
Now this is what I call toned biceps! Do you think she got it from lugging around heavy bags or from working out? Seriously, we love this Valentino Braided Leather Histoire bag in Ivory and the celeb carrying it. Once again we are asking you to give us the NAME OF THIS ACTRESS and not the bag, it being obvious as the logo is in plain view
The first person to get it right will win the engraved Bag Snob Bag Hook! You have no idea how useful these hooks are, your bags will stay clean and safe hanging under the table instead of the floor or back of a chair. Leave your answer in comments, US residents only please. Valentino Histore Bag available at Bergdorf Goodman for $1,695.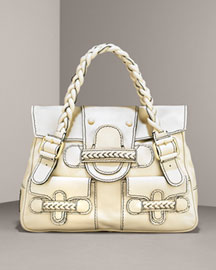 source: CU