I thought the Emmy's was really entertaining last night. I love awards shows so I might be biased but I though the pace was good and that people were pretty funny and Ryan Seacrest not as annoying as I was certain he would be. America and Katherine Heigl won, yay!!, The Office didn't win, boo!! but who cares right? You want to know what people wore so let's get to it.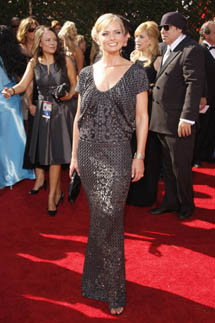 Jaime Pressly wore St. John, bad choice for anyone under 50, I don't care that Angelina Jolie's image is supposed to make it more hip, it is better saved for old age. The black and silver print combo always yells "old person trying to look dressed up!", waist down it was fine, Jaime has that weight lifter body, but the bust area looks like oversized breast feeding floppy boob attire. America looked really great and slim, the draping was extremely flattering on her, unfortunately the color and the waist band made it very prommy.
Katherine Heigl looked like an angel in Zac Posen, well, a sexy and totally chic angel that is. Of course she almost cried during her acceptance speech, it's good to be humble but she goes overboard. I love Felicity Huffman (in David Meister) only because she shows how you can really make the most out of being flat chested. Hooray for being hot and silicone free!!!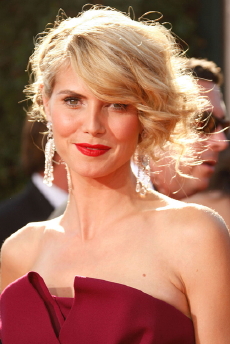 My huge gripe with the fashion last night was with hair. Did everyone pull a Britney and fire their hair stylist and decided to get the Tasmanian Devil to fill in? Heidi Klum did look quite fab in a Dior, I like that she chose a striking color to go with her striking date! Sandra Oh gets some redeeming points for showing up in Bottega Veneta.
Good try Ellen Pompeo (in Michael Kors) for trying for fuller hair this year, but she ended up with the Conan O'Brien do. She has yet to have hair I like. We see the disheveled look week after week on Grey's Anatomy, it would be nice if she can get herself together when she's on the red carpet. Even Conan did his extra high for the night. It was ridiculous even for him but it was funny!
My only concern for Marcia Cross is for her earlobes. Those turquoise earrings looked like they weigh 20 pounds. I suppose it was an attempt at jazzing up her George Chakra gown that lacked specialness.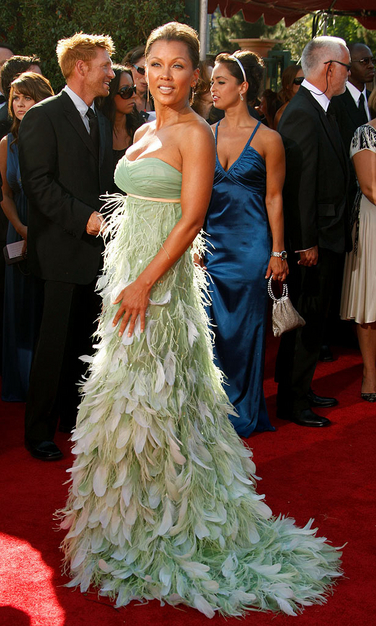 The best dressed of the night goes to Vanessa Williams! She took a chance with this super fabulous Kevan Hall feather gown in gorgeous minty sage and was the only star that shined. The majority went for unremarkable, which is so lame. Everyone is so afraid of getting on the worst dressed list that they just decide to look boring like the rest of us. Hello! We are paying you to shock and awe us so wear something exciting and inspiring!! Is that too much to ask??