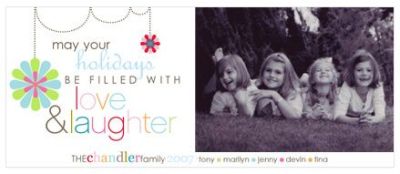 Ornaments – $2.50 each
It's time to start thinking about those holiday cards. Every year I promise I am going to do a cute card. Unfortunately, I realize it in November and forget trying to get anything ordered and in the mail in time. The photographers are booked and cards on backorder. Then the "so & so's" send out a fab card with a great picture of the kids and I am instantly jealous. I want to show-off my sweetie pies too. This year I am definitely getting it done.
Erin Condren Designs is my solution. She has tons of colorful and cheery photo card designs to wish friends and family a great holiday season. The cards come with adorable matching circular or rectangular return address label. She even has a card that says it all "Happy Everything." Very PC so you don't have to worry about offending the neighbors. Any design can be customized for you. Prices range from $2.25 – $4.00 each.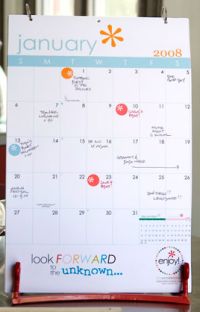 Erin offers more than just holiday cards. This year I am also ordering one of her personalized, stylized family calendars ($45) to keep my schedule for the year. I may be organized, but when it comes to planning ahead I just can't get it done. Somehow I always find myself shopping for birthday presents on my way to the child's birthday party. Even better I can mark down when to start thinking about my holiday cards in September of next year. Available at Erin Condren Designs.