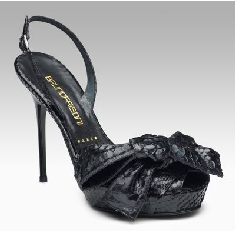 Kristopher reflects on Sen. Craig's S-E-X scandal in python Bruno Frisoni shoes.
Get ready to travel! Beautysnob has found the perfect brush!
Jewelsnob dishes on Lotus Artes de Vivres serpent bracelet!
GlamChic's exclusive interviewwith Gwen Stefani at the recent L.A.M.B. Spring 2008 runway show.
Spring has sprung! Second City Style covers the tents, the fashions and the trends at NY Fashion Week Spring '08
Totsnob gushes about jackets that warm up to winter!
Brush up on your foundation application technique at 55 Secret Street.
Fab Sugar covers New York Fashion Week, Spring 2008: Badgley Mischka!

Bag Bliss loves Bottega Veneta's new Karung Fan clutch.
eBeautyDaily is talking about the hot short hair trends.
Stiletto Jungle is taking a break from the Fashion Week madness to stock up on fab fall shoes at the 3 for $99 Shoe Sale.
The Jewelry Weblog reports on a new jewelry network where you can see jewelry made every week via video: Metal Chik.
Stylehive's first annual Crowd Control Poll – where YOU tell US who's the most stylish star of them all.
Papierblog's fashion week journal evaluates the designers of the 1st day. What's good? What's not so good? What's just plain horrible? Finding out is a click away.
Find out how Keira Knightley pulls off this season's tricky high-waist, wide-leg denim look with style at StyleBakery.com.
Interactive perfume? Mais Oui! Coquette loves Chanel's new Coco Mademoiselle campaign with Keira Knightly and the interactive installations featured in Chanel boutique storefronts.
My Fashion Life returns to the 80's with the limited edition Casio G-Shock.