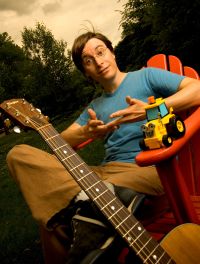 Desperate for new tot tunes the other day, I ran to Barnes and Noble with the kids and bought a few CDs. Justin Roberts Great Big Sun CD caught our eye. My daughter selected it because she liked the artwork of the sun in a pink (need I say more) sky. I previewed a few songs at the store and couldn't wait to pop it in the CD player. I had no idea the celebrity I had discovered.
Kids go crazy for Justin's sounds and whitty lyrics. His vocals remind me of James Taylor for kids; however, the music is not just for relaxing. His songs are infectious and easy to tap your feet to. Realizing the CD was released in 1997, I figured with music this good there had to be follow-up CDs. Justin has since released four other albums and received numerous Parents' Choice Gold Awards. Amazon calls his latest release, Meltdown, one of the Top 10 CDs of the year. Cookie Magazine, a Snobby Mom must-have, says it's a "grand slam." Even his videos running on Noggin and posted on his website have been professionally produced by Oil Factory, who has produced videos for Coldplay, Rob Thomas, Gwen Stefani, and Madonna. However, if the awards don't convince you, your children's reactions will. They are certain to jump, jam and jiggle the minute you turn on the music. Justin Roberts available at Amazon
. Love it as much as we did? Check out his upcoming tour dates.