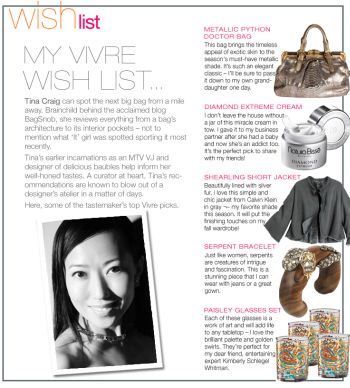 So my birthday was back in August and Christmas is still two months away, but that doesn't mean I can't start planning gifts now! Check out what I crave from Vivre, the fabulous web boutique that delivers luxury goods to your home so you can stay in bed, eat bons bons and sip champagne while you shop online! So what are you waiting for? Crack open that bottle of Cristal Rose you've got chilled… you've been saving for the right occasion and this is it my darlings! Go shopping!

Okay, so I am greedy and there are more things I want… I can not tell you how many hours I spend browsing Vivre, my friend Criselda and I often obsess and discuss the things we must have from the site, which is just about everything from home furnishings to shoes!
I must have this! I am building a McMansion as we speak, (every girl needs to have a Great Gatsby house at one time in her life before she comes to her senses) and this Niagara Chandelier by Lladro is divine, absolutely to die for and perfect for my dressing room where I can properly luxuriate in peace and private.
I am usually a four inch heel girl but these Anya Hindmarch broken mirror flats are tempting me to reveal my true height!
The juicy colored Michael Kors Buckled Patent leather clutches will perk me up during the dark winter months. Nothing like a little color to put me in the mood for more shopping!