I love the holidays, the sight of homes trimmed in golden light make me feel fuzzy and warm all over and brings back happy childhood memories. Remember the day your dad would pull out the Christmas lights? That was an indication that Santa was not far behind with loads of presents! Though I no longer wait for Santa's arrival, I do eagerly await the arrival of gorgeous golden holiday bags. Top of the list is the hammered gold leather clutch with a wooden ring trim at the top from Anya Hindmarch. I simply adore the distressed leather contrasted with the wood details. It brings an earthy element to the bag and gives it a unique touch. It also has ruched detailing, a pouch pocket on the inside and a suede lining. Get Anya Hindmarch Lulu leather clutch here- $895.
Jennifer Alfano's Marina clutch in golden metallic python is another super glam option for the party season. The sueded effect on the skin makes it velvety soft to the touch. We adore Jennifer and her line of chic bags. A former fashion editor, she has a keen eye for detail and a subtle classic style. $1195 at Jennifer Alfano.com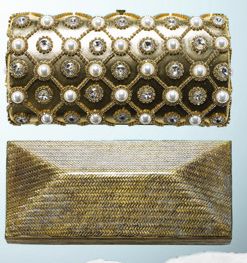 Mary Norton has long been coveted by celebs for Red Carpet occasions. I expect to see the metal Sceptor clutch with pearl detail on A-listers such as Nicole, Reese and Gwyneth come Oscar time. $2995 at Mary Norton's online boutique.
The woven oxidized brass clutch from Filipino designer, Celestina, is perfect for animal lovers who want to be stylish but can't stand the thought of animal skin. $1195 at Jeffrey, New York. 212-206-3968