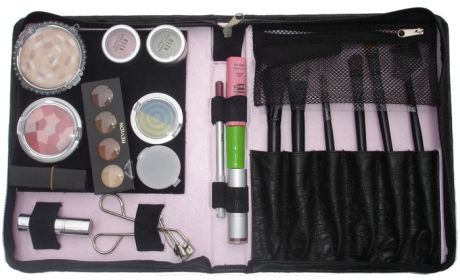 How fabulous is this invention by Robert Burchard and his wife? The Speedy Make Up Case allows you to organize your make up and be ready for any occasion, even while traveling! The makeup organizers are designed to neatly arrange any brand of makeup into a book-like binder with space for your brushes, lipsticks, eyelash curler and whatever beauty tools you can fit into it. I am going to need several of these!
The most genius part are the Velcro Stickies that you stick on to your makeup and attach it the inner wall, creating a makeup palette. Your makeup will not move around and your brushes are safely stored close by. How many times have you opened your make up bag after traveling to find all your powders and eyeshadows banged up and broken?
You'll never have to search for your makeup again! This makeup organizer is made for the woman on the go. Specifically designed for the mother, career woman, student, frequent traveler or someone who may just need to simplify. Available in small, medium or large. $18 – $23 At Speedy Make Up Case.com
These will make great Christmas gifts for your girlfriends!