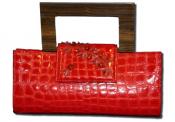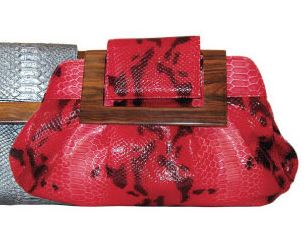 We weren't going to do an editorial on this bag line but have received over a dozen crazy harassment emails from the PR girl representing them so we decided to put it out there so you can stay clear of this line of horribly made and very cheap bags. Kelly first received an email two months ago from Zina Eva's rep asking to participate in our monthly bag giveaway but after receiving the samples this weekend we decided the bags were not up to Bag Snob par and we couldn't possibly endorse it let alone give it to our readers. (a bag that looks cute and adorable in photos sometimes doesn't translate as well in person) So why didn't we like the bags? First of all, they smelled heavily of plastic and looked and felt like plastic (fake embossed snakeskin is the one they sent), the handles were also very flimsy and felt like plastic too. Seriously, you could get better bags at Target for $39.99. (Bag Snob note: they maintain their bags are made of leather but they smell and feel like plastic to us)
We promptly contacted them and told them we'd return the bags and will not be able to include them in our monthly giveaway but the PR girl turned nasty and started sending us harassment emails with racist overtones. Let's see, she accused us of using fake last names because our names are English/European yet we don't look European (Basically non-white people are not allowed to have European surnames according to this genius PR girl) and then she accused us of trying to scam them of $150 (wholesale price) bags?!?!??! How is it a scam if we didn't want to keep the hideous bags for our giveaway?
The false accusations are actually funny considering we buy Hermes birkins for a hobby and give away $2,000 bags on a regular basis (from real bag designers like Anya Hindmarch, Jimmy Choo, Devi Kroell, Sang A, Smythson, etc who have all been very pleased with our level of professionalism). Anyway, I actually feel sorry for Zina Eva as she has the worst PR firm on earth working for her. But not sorry enough to compromise the standards we have for ourselves and our readers so the bags are packed up and being shipped out tomorrow morning. I am also worried that if you, as a consumer, were to ever complain about a Zina Eva bag, would they harass you with a dozen of hate emails full of crazy racist remarks and general derogatory comments about your character JUST BECAUSE YOU DIDN'T LIKE THE BAG?
Kelly and I often receive flak for our honest reviews but it is why our readers trust us. British Vogue, London Daily Mail and other esteemed publications have written about the power of an endorsement from Bag Snob and that is not something we take lightly. So even if a second rate PR firm calls us a "Lowly Blog" and that blogs are useless (then why did they contact us to be featured in our sweepstakes and offer us the bags to give away? We never heard of Zina Eva prior to that email!) we will continue to do what we do best. Which is honest reviews of the ultimate accessory, The Handbag.