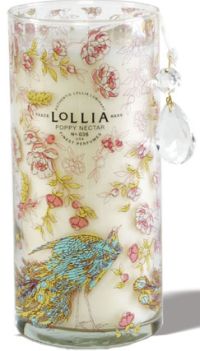 I was at my favorite spa, Cooper Spa at Craig Ranch, last week for a much needed massage and manicure after my long trip and saw the most beautiful line of body products and candles by Lollia Life. I wanted to take every single product home but settled on a handcream. There were so many delectable scents that I had to carry the coffee bean sachet the spa provides while testing it all out. I finally chose "Inspire", a heady scent of 1000 flowers. The box had beautiful vintage pink peonies surrounding an elegant peacock, the peacock symbolizes beauty, power and knowledge. It was gorgeous but the scent was intoxicating, made of Shea Butter with Macadamia Nut & Avocado oils, infusions of Mimosa, Violet leaves & Rose buds. I have been keeping this in my bag so I can moisturize throughout the day. With my new obsession of washing my hands for at least one minute, my hands are taking a beating. (I was told it was the only way to avoid getting sick again, wash your hands often and scrub with soap for 1-3 minutes- I sing happy birthday to myself while I do this. A lady at Neiman Marcus bathroom was like "oh, is it your birthday?" Did not want to explain and engage in conversation with yet another stranger so I just nodded yes.)
The candles are also tres beautiful not to mention ultra romantic! My favorite scent was the Poppy Nectar (how cute is the dangling handcut crystal piece?) with the same vintage floral and peacock packaging. They make such beautiful gifts!
Hand cream $24, candles $36-56. At Cooper Spa– call 214-383-1010 and mention Beauty Snob for free shipping!