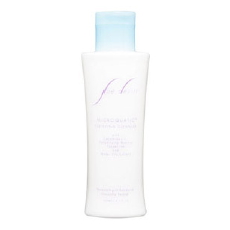 I am always up for trying new products in case there is something out there that is better than what I have, so I decided to get a full make-over and consult at the Sue Devitt counter at Barneys. I actually did this twice, the first time just for make up and the second time for both treatment products and make up. I liked the idea that all their ingredients are natural and from the sea, that's what I prefer, just like my food (I can pretty much eat sushi every night of the week, yummy and all those fish oils are so good for your skin!). I tried everything, the foundation (the color didn't match and it was actually so sheer I didn't feel like it was enough to even my tone), the shadows (yes, it's full of sea kelp which sounds amazing, but it wasn't much different than other shadows, even the colors weren't extraordinary), lip stick, lip liner and gloss (all good enough but like the shadow, nothing special) and then the make up artest used the Sue Devitt Triple Touch Reflecting Bronzer ($30). I am not a huge bronzer fan, I am naturally tan looking and if and when I do get a tan, it lasts all year long. This bronzer was different, it didn't make me look like I was darker (which is the main reason for my dislike of bronzers, I don't want to look like the female version of George Hamilton, plus like I said, I already have a darker complexion). This bronzer brightened my face, gave me a youthful glow and brought rosy cheeks in my life. It was like a face lift – it gave me at least 10 years back in my life. It has 3 shades so I use the different shades on my eyes as a finishing touch for a natural look. I even use the darkest shade as a lowlight around my jaw bones for contouring. This stuff is brilliant!!
Another product worth mentioning from Sue Devitt is the Purifying Cleanser ($40). I am an obsessive freak about cleansers, it is absolutely the most important step in a beauty regiment. I have tried every cleanser known to me out there so of course I had to try this one. This is not just a cleaner, it has treatment properties in there as well for a one two punch. The sea ingredients are detoxifying and contains collagen that keeps circulation up even after it is washed off. This cleanser is so pure you can leave it on your face, no need for water – just tissue off after use. This is great for travel when you need a refresher. How well does it clean off make up? I always do my white towel test, does it leave any make up residue on my pure white towel after drying my face? This totally mild and delicious smelling cleanser passed the test with no problems. I didn't even have to use that much product and it took off heavy mascara, eye liner and foundation without the need to be harsh.
They also have a moisturizer, the Anti-Aging Facial Concentrate ($125) that claims to include ingredients that act like Botox to relax your skin of wrinkles but I haven't had a chance to try that. I got a sample but I need to test it out over a period of time to see its effectiveness. Stay tuned!