UPDATE: The Prada Fairies Bag by James Jean will be available in wristlets and clutches soon! Stay tuned and check back often for details!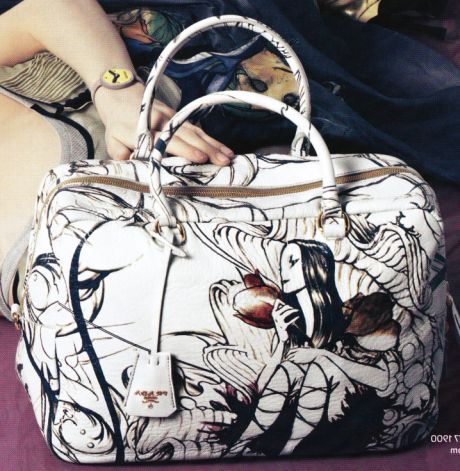 This is not my usual classic but I am completely enchanted by the "Fairy Bag" from Prada. The artwork on the bag reminds me of Japanese Anime, which I was fascinated with as a child and even devoted years to drawing it myself. In fact, I have drawings that look very similar to this that I did in college! Miuccia Prada has always designed to the beat of her own creativity and it is what we love about her. We may not always like her bags but they always provoke and stimulate. Unlike certain editorial pieces (Louis Vuitton and Fendi patchwork anyone?) that aim to shock and are hideous, this to me is a beautiful piece of art, art that is meant to be carried and treasured. It will take a very edgy and independent personality to carry this bag off, and one who still believes in the magic of fairies. Do you still believe in fairies? If you do, call Prada boutique 212-308-2332 and ask for Hope (as a side note, Hope is 34, gorgeous and looking for a husband
– she just received a delivery yesterday so grab this collector's item quickly. $2290 in Prada's signature grainy calf leather in white. View more photos of the Fairy bag designed by James Jean!
There are two fairies on the back.