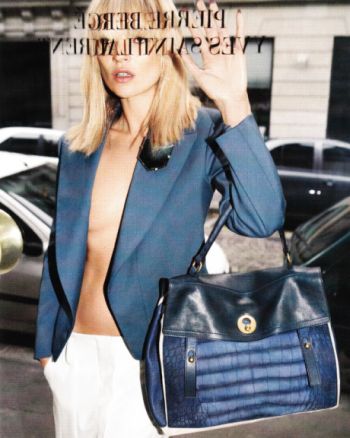 Stiletto Jungle GWP alert: snag free shower gel at The Body Shop.
The return of Takashi Murakami: Bag Bliss is so ready for the Louis Vuitton Camouflage Bag Line!
YSL Muse Two exclusive photos at Bag Snob!
Get Nude and Gorgeous with MAC!- Beauty Snob
Coquette loves the new Spring Safari Look.
Fashion Indie has tips for the perfect bag..
Fashion trend alert: Quiet Luxury – Fashiontribes
KRiSTOPHER digs this boss Fendi bag on sale.
My Fashion Life asks Topshop or YSL?
Papierblog's continuing fashion week designer previews looks at Carlos Miele.
Who wore it better? It's time for Second City Style's Celebrity Style Smackdown.
StyleBakery.com went on the hunt for cheap, chic black sweaters.
Celebrity Styleaholic Najwa Moses discovers skinny jeans for men!
Stylehive Slides: 11 High-Heels That Scream "I'm So Sexy It Hurts".
WELOVEBEAUTY.com's Celebrity Stylemaker, Paul Starr gives us the 411 on his Beauty Faves for Spring.
Fighting winter lizard skin? So is eBeautyDaily.
Check out Fabsugar's look of the day!
Learn how our culture is causing children self esteem issues on Tot Snob.