For our frugal Bag Snobs and Snobs in training- here is my "Must have" Cheap Thrill bags for Spring 2008. I really think you should try something different and go for a designer that is not on the arm of every mall rat in America (actually, I beg you, please leave the Juicys and Coaches to the fashion illiterate!).
The Mini tote from uber cool French designer Stephane Verdino is edgy and glamorous without the hefty price tag. At 12″x11″ it will make a great daily or travel bag this season. Toss in your sunscreen, a bikini and a copy of the hilarious "Celebutantes" (a must read this summer!) and you'll be ready to rock the shores of St. Tropez. Stephane Verdino tote-
$315 at Saks.com, in black, white, bronze or gunmetal.
Mayle Neon Aztecs Riri Bag
– The ultra fem pleats and ruffles appeal to the little girl in me. At $595 it's just shy of our requirement but way too cute to pass up- plus you can remove the shoulder straps and use it as a clutch so it's really two bags in one. Love the black contrast detail and zippered pouch. This is truly a cheap and tres chic buy!
Botkier Lita Clutch
A pop of color is just what you need to punch up your Summer wardrobe. We've always loved Botkier's line of affordable and well made bags, it's so rare to find this combination these days. The Lita clutch rocks a bold turnlock closure hardware with girly pleats, great for any occasion. The fuschia with pale purple stitching is fab but so is the electric blue in patent leather. Go for color and you won't go wrong! $350
A cool silver bag is perfect for hot summer days. I love this retro looking Andie bag from Elaine Turner, in distressed platinum leather with groovy piping it looks like it came straight from your mother's closet circa 1977. $495 at Elaine Turner.com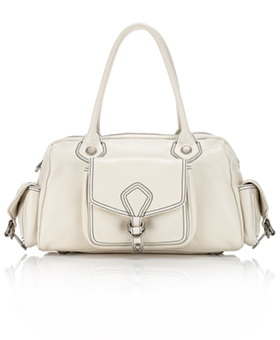 For the label lovers who are having anxiety over the lack of big name designers on this list, here is a Marc by Marc Jacobs that we approve of wholeheartedly. The softy Aline in contrast top stitching in a soft grain leather called Canvas White is refreshing and fun. Because what is a summer bag wardrobe without a great white bag? The Softy Aline from Marc by Marc Jacobs
at eLuxury $388- 17″x9″.
So there you have it. My Cheap thrills of the season, now go shop!