Call Jasenka at 214-265-0136 for further details and bag prices!
I wish I lived in the Jetson age so that I could've beamed myself to Milan earlier this week. I wanted to attend the Bottega Veneta show (what I actually said was "I want to come to the show and I want to have dinner with Tomas Maier" – I know, so demanding of me- but we think he looks like he'd enjoy a good dinner with a couple of Bag Snobs 🙂 and was told "Come to Milan!" by their PR director whom I met at a dinner over Fashion Week. I was tempted to hop on a plane but having a three year old son makes it difficult to fly off at a moment's notice. As you all know by now, I adore Bottega and after seeing the Fall 2008 collection, I am kicking myself for not going to the show! Tomas Maier created another drool worthy collection of fabulous frocks, sumptuous coats, and beautiful bags (all you need for the ultimate Fall wardrobe!). Everything seemed so different yet familiar (Tomas is the master at reinventing the old without changing the integrity of its roots) even Bottega's classic woven details are blown to exaggerated proportions on a python clutch, making it fresh and fun while the iconic knotted clutch has been elongated for a more youthful vibe. Exotics ruled the runway once again (a yummy ostrich clutch wrapped in crocodile anyone?), and if you have not owned a piece of Bottega exotic skin, you are truly missing out. My anaconda bag fell into a tub full of bubbles (please don't ask, it pains me to even think about it but a three year old was the culprit) and I thought it'd be ruined. I really couldn't be angry with my son though, as he sweetly said "mama, you love bags right? I wash for you nice and clean." Uh, okay. I swallowed my tears and let the bag dry overnight, it was good as new, amazing!

One particular bag caught my eye (the truth is I want them all but I am practicing the the art of editing my purchases), the foldover crocodile expandable bag in the most delicious ash color. Folded up, it's a proper luncheon bag but unfold it and you are effortlessly chic, brilliant! I love the multi-functionality Bottega bags have been offering of late, so far, this is the best of the bunch. And could you just die over the ostrich bags trimmed in CROC? It is pure decadence but Maier keeps the quiet elegance that Bottega's known for by keeping the lines clean and free of unnecessary logos. Maier also kept the colors muted in blacks, nudes and grays but punched up with blues, plummy purples and burnt oranges which added depth to the collection. I am so jonesing for that coat with the upturned shawl collar, it is totally classic! In other words, totally Bottega.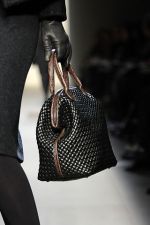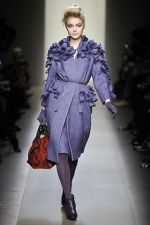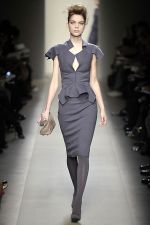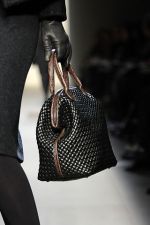 Purple Goatskin Pleated shopper- $2,980
Ash Waxed python bag- $3,450
Photos: Style.com