I was recently introduced to the spirit of Cindy Chao, a jewelry designer based in Taiwan. I love discovering new jewelry designers, especially those with an incredible eye for detail and design like Cindy- one of the most promising jewelry designers I have seen in a very long time! A friend of mine had several pieces made by Cindy and showed them to me during her last visit, the pieces were extraordinary and exquisite and like nothing I had ever seen.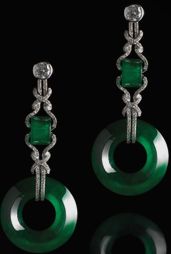 Inspired by her Eastern roots and by the forces of nature, Cindy's jewelry is astounding and fascinating. Owning one of her pieces is like capturing the essence of nature and owning the spirit of beauty. Each piece is carefully designed and meticulously handcrafted- a conch pearl rests delicately against the sensual curves of lily petals made of diamonds, a golden pearl mounted as the exotic center of a spray of diamonds, a diamond nestled in a cluster of pearls, each piece unique in its own way. I am waiting for my first Cindy Chao pieces, I was told the wait would be long, but as all things worth owning, it is worth the wait. Email her showroom for details and point of purchase.
More photos after the jump!
A simple diamond band is anything but simple in Cindy's hands. This reminds me of vintage art deco jewelry with a modern twist. The sapphires bring color and elegance to the classic design.
The starkness of winter is captured brilliantly in one of Cindy's Four Seasons pieces. A tree with in midst of snow but instead of snowflakes, diamonds glitter.
Butterflies are my favorite, what can be more promising and glorious than a caterpillar who outgrows his cocoon and sprouts wings of diamonds and jewels?
The golden hue of a south sea pearl juxtaposed on a cluster of diamonds is absolutely stunning.