UPDATE: Congrats to Sarah! This is Jennifer Aniston!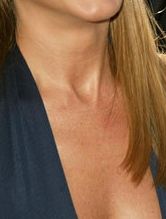 Tell me who's gorgeous neck and décolleté this belongs to and you will win the SENSAI Cellular Performance Throat and Bust Lifting Effect worth $110!!! I have been a big fan of Kanebo SENSAI products since I lived in Tokyo in the '90s; founded in 1887 as a textile company, Kanebo discovered the hands of its factory workers exposed to silk were youthful and line free. They began manufacturing skin care products in the 1930's and have been committed to making women youthful and beautiful ever since! So, do you know who this is? Leave it in comments. Winner will be picked via random drawing on Friday, March 21st at 11:59pm. One answer per person, US residents only please!

SENSAI neck serum:
A luxurious moisturizing anti-ageing body essence for neck, bust and décolleté that helps to promote firmer more youthful-looking skin. Contains Ougon Extract to accelerate lipolysis which results in firmer, more lifted contours around neck, décolleté, and bust.
Ougon Extract is taken from the dried roots of the Skullcap (Scutellaria) herb, a medicinal plant known for centuries in China for its anti-bacterial and anti-inflammatory properties. Ougon is highly effective in promoting fat metabolism and the root is chewed by Sumo wrestlers when they retire. By accelerating fat breakdown (lipolysis), Ougon offsets the development of excess fat deposits, helps optimize levels of body fat, and realizes firmer body contours.