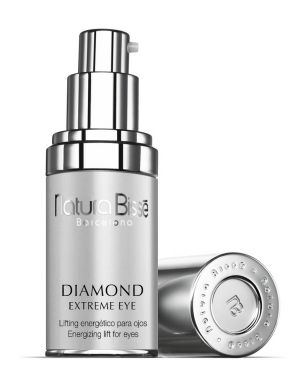 Throw out every jar of eye cream in your cabinet ladies, the mother of all eye creams has just landed! Natura Bisse's newly launched Diamond Extreme Eye is a heavenly cream that lifts and moisturizes while addressing the most extreme of concerns. I got mine at Neiman Marcus and have been using it for a week and I absolutely love it. It tightens and resculpts the delicate skin around the eyes and keeps it moisturized all day long! It contains "Artemia Salina" obtained from plankton, a marine extract considered essential for stimulating cell metabolism, and it reinforces the skin's natural barrier by targeting the "nucleus" of aging skin. This molecule was created through DNA Technology, where it proved its extraordinary capacity to modulate the epidermis' renewing process, resulting in youthful and luminous skin. There is also a bit of reflective properties in the cream so the skin around my eyes has that 'baby' glow which deflects light away from my lines, making me look years younger (if I do say so in my most humble of opinions :).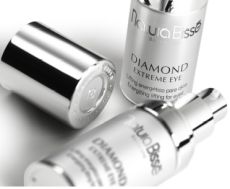 This could not have come at a better time. My three year old son has decided that his bed is not "comfy" so he shows up in our room at all hours of the night to crawl into our bed. I don't mind cuddling with him but he sleeps horizontal and kicks me all night long. And when he is not kicking me, he sleeps on top of my face, yes- he presses his face on mine and sleeps on my chest the way a cat does. I do put him back into his bed sometimes but then he'll show up again an hour later. Suffice it to say I have not slept well in a couple of months and started developing dark circles from the lack of sleep but the Diamond Extreme eye cream is going to save me from looking like a hag!
Not only is the cream silky soft, it leaves your skin really smooth so when you apply concealer, it does not get cakey or dry. I am so excited about this product I am going to buy it for my girlfriends for birthday gifts! What could be better than giving your best friend 10 years back right? I am telling you, drive yourself immediately to Neiman Marcus and get your hands on a bottle, NOW! You can thank me later when you get carded trying to buy that bottle of champagne to celebrate the new youthful you. $180 at Neiman Marcus and Barneys New York.