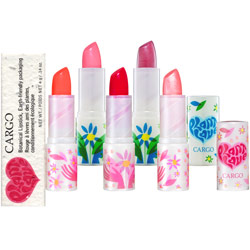 I am so glad cosmetic companies are offering more eco-friendly products. I don't buy green exclusively, but I like to, when I can. I recently tried Cargo's PlantLove lipstick and loved it! Not only is this lipstick great, but it's a purchase you can feel good about as well! I tried Sarah, which is a shimmering pink pearl shade. It is gorgeous, and looked perfect with the smoky-blue eye look I wore over the weekend. The lipstick is made of a botanical formula, including an orchid complex, meadowfoam seed oil, jojoba and shea butter, with no mineral oils or petroleum. It comes in a wide range of shades, and the new celebrity shades have been created by celebrity mothers, Kim Raver, Angie Harmon and Denise Richards, who all care about the environment.

I also love what Cargo has done with its packaging. The lipstick tube is made out of corn, which is a renewable and abundant resource. Plus, it's super cute. The outer carton is made out of flower paper embedded with real flower seeds, that can be planted. How cool is that? Cargo also donates $2 from each tube sold to St. Jude's Children's Research Hospital.
I'll definitely be buying more of these lipsticks the next time I go to Sephora. Right now, Cherry Bliss, Lindsay, Maria and Gamba are on my list! At Sephora for $20.
This is a very simple smoky blue eye look, that goes perfectly with my new Cargo lipstick. When you do a strong eye look, it's best to use a lighter, more neutral lipstick.
Here's how I achieved the look (you can substitute any brand of products in similar shades):
Apply your regular foundation, concealer, powder, bronzer, etc.
Apply any pale, peachy-pink blush. I used Bare Escentuals bareMinerals Blush Sorbet.
Apply Bare Escentuals bareMinerals Glimmer Nude Beach from the lash line to the brow.
Apply Bare Escentuals Rebirth glimmer (a gorgeous sparkly, smoky blue) to the lid, and then foil Rebirth on top of that (to foil, simply mix the shadow with water, and apply with a brush).
Apply Bare Escentuals Caviar glimmer to the contour.
Line the upper and lower lash line with Bare Escentuals Cat Woman glimmer.
Apply 2-3 coats of black mascara.
Top with Cargo's PlantLove lipstick in Sarah.