Post by Beauty Snob Sharon: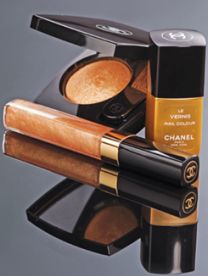 With summer just around the corner, I am on the lookout for makeup to give my face that effortless sun-kissed glow, like I just got back from a relaxing week of sipping champagne on a yacht in St. Tropez (wouldn't that be nice!). I am loving Chanel's new summer colors. Chanel just got a new creative director for makeup, Peter Philips, and he is whipping up some wonderful bronzes, golds and shimmery tons all set to hit stores in July.
I have a feeling that Chanel's $30 gold nail polish, a limited edition shade called Gold Fiction, will be this summer's equivalent to Vamp and Black Satin. It comes in an opaque gold case and Christine Dagousset, who is the executive vice president of Fragrance and Beauté for Chanel, said that high-end pigments were used to get the color and finish just right, hence the shade retailing for $10 over the regular $20 price tag. Not that the price tag will stop Chanel devotees from buying the new shade, but for $20 I thought I was already getting high-end pigments!?
In any case, there are plenty of other stand-outs in this new collection including Facettes D'Or, a finely milled gold loose powder that is said to read as a subtle glow on the skin ($56), Gold Light Glossimer lip gloss ($26), Rouge Hydrabase lipstick shades in copper, plum and coral (each $27), and a quad eye shadow palette with gold, coffee, ivory and dark green eye colors ($56).
I have always had a weakness for Chanel. Everything from their soft brushes to their sleek, black packaging brings a smile to my face so, I can't wait to hit the beach (Chanel sunglasses in tow!), decked out in these fabulous new shades.
Get Chanel at Saks Fifth Avenue!