From the Beauty Snob: Anne is our young Beauty Snob in training, representing the 20-something Beauty Snob readers 🙂 Our family is growing as you may have noticed, and we'll get a full bio of everyone together for you soon!
To share a little about myself… I am a 21-year-old college student, and my BIGGEST morning beauty issue is what makeup I can throw on in the 3 minutes I have before I need to leave for class, but still look slightly polished. I have learned from my experience, and I have *6* quick, daytime beauty items you should be able to find time for before jetting out the door to face the day! (Jump to see my photo and steps!)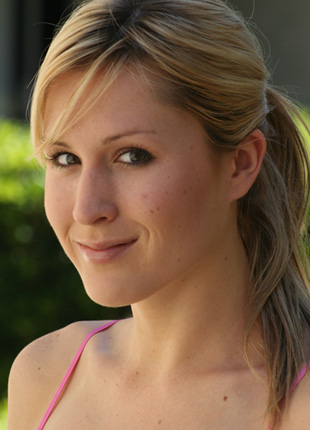 Me, after my 6 steps! (note the time-saving ponytail!) *Photo By Richard E. Bukata
1) Light Foundation OR Brush Applied Powder– This is one of the hardest things to master because it is so easy to look cakey during the daytime. Think about what you will look like in direct sunlight and fluorescent lighting!! If you apply your powder with a brush, instead of a sponge, you will end up applying less. Less is more, and something is better than nothing!
Beauty Snob Pick: Cashmere Perfect by L'Oreal
2) Bronzer–One light sweep under my cheekbones (well blended), and I feel like a model 😉 'Nuff said!
Beauty Snob Pick: Benefit Bronzer!! They have several; I like '10.'
3) Eyeshadow–For girls on the go, pick one neutral color, that is slightly lighter than your skin tone. It's super easy, and it brightens your whole eye area! Plus, during the day, the last thing you need is dramatic eyeshadow–it will make you look too overdone.
Beauty Snob Pick: Mac; try the shade sticks and creme color base.
4) Eyeliner–Black is too dark for daytime. I use a deep plum shade and blend it well!
Beauty Snob Pick: Nars in Mambo.
5) Mascara–Even if I have time for nothing else, this is my one 'can't leave home without it' makeup item. I feel naked without full, jet-black lashes! If you are a strawberry blond or have very fair skin, you may want to seek out a dark brown hue instead.
Beauty Snob Pick: Your call. You know we love Dior Show here, but I'm wearing Telescopic Lashes by L'Oreal.
6) Lip Gloss–Or in my case, glossy chapstick. Anyway you go about it, this step will add some polish to your look, with very little effort. I usually do this before I get out of my car, so I can drink my morning tea while I drive without getting my gloss all over the rim of my mug and needing to reapply.
Beauty Snob Pick: Burt's Bees!
If you have time for nothing else, I would recommend MAKING time for mascara! Nothing makes you look younger and more attractive than great lashes. *WARNING: The makeup blunder to avoid at all costs is heavy, cakey makeup!* And remember, if all else fails, sunglasses and a smile will do the trick!