Pierre Hardy 40% off at Barneys Dallas on May 5th for one day only! Call Pam or Cory at 469-221-4807 to pre-order!
Anya Hindmarch Oakley, Goyard Saint Louis, Pierre Hardy, YSL Downtown
Dear Bag Snob,
I have been looking for a big bag suitable to be used as a diaper bag for almost 4 years now (my oldest is almost 4 and second baby just turned 1). I am looking for something that is light (not heavy) in a spring color and big to carry all my baby items. I know you are not a fan of the Goyard bags, but they look like they could be used as handy diaper bags. I am referring to the Saint Louis bags. What do you think? Do you think they're worth what they cost?
Thank you!
Love,
Stephany

Hi Stephany,
I do not use diaper bags because there are a lot cuter options out there. The Goyard is a only good choice because it is ultra light. The medium (19″ x 10.5″) is $940 and the large (22″ x 12″) is $1065 (at Barneys NY in Beverly Hills, 310-276-4400), so the prices aren't outrageous but it is very thin leather and is just one large sack (which makes it tough for all the tiny baby things). It does not make for the most idea baby bag. I use the YSL large downtown ($1795 and comes in great spring colors as well), it is really giant so it's great for my 2 kids but in the buffalo leather, it is extremely heavy. I would never think to use it without my stroller. And I know I said I would never use an actual diaper bag, but I do like the Anya Hindmarch Oakley in canvas ($305), which is a regular bag that she converted into a diaper bag by adding a pouch with changing pad in it (I love this pouch and use it with all other bags). This is amazingly convenient with all the outer pockets and is perfect for beach, park, picnic and even fits my computer and documents! (Call the Short Hills boutique 973-379-7183 to inquire).
Since you only have one baby in diapers, a couple of smaller options would be the Pierre Hardy and the Bottega Veneta Julie. The Pierre Hardy ($1655 and is 40% off in store at Barneys) is ultra chic and light! The buttery leather is as soft as your baby's skin!! I have the messenger style with the cross body strap but this tote completely takes the baby bag look out of it. And of course like all your other practical needs, the Bottega Veneta Julie ($1880) is the way to go for ultimate function and in this robin's egg blue is perfect for summer. It slings on your shoulder comfortably so that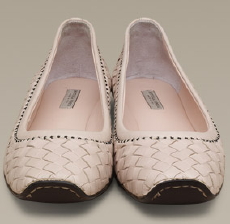 you have a fighting chance wrangling with your unruly toddler. All of these bags are under $2000 which is my limit because kids are messy and I would not risk my Chanel and Hermes to the torture. And while we're at it, the greatest mommy shoe of all time is the woven ballet slippers from Bottega Veneta ($570). Talk about comfort, these feel like house slippers on your feet but are super stylish so you can avoid the barefoot and pregnant stigma.
I hope this helps! We are always there for our fellow mommies!!
Love,
Bag Snob Kelly