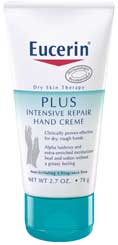 I am constantly searching for the perfect hand and foot creams. I try everything! I like to slather lotion on my hands and feet at night right before going to sleep. I recently tried Eucerin Plus Intensive Repair Hand and Foot creams, and I'm in love!
My feet get really cracked in the winter, especially since I'm barefoot around the house so much. The Eucerin foot cream felt great on my feet, and I really noticed a difference after using it for a few nights. It is fragrance free and contains Alpha Hydroxy acids and urea to gently exfoliate and moisturize without stinging or irritating the skin, like so many creams. I like to apply it generously, and then put my socks on to seal in the moisture.
My hands are in good shape, but I do like to make sure I moisturize them at night. The problem is that greasy creams can leave greasy fingerprints on my books (I'm an avid reader, and I can't go to bed without reading!). The Eucerin cream feels luxurious going on, but it dries quickly so that my books are protected! It too contains Alpha Hydroxy acids and urea. I also like to apply it to my knees and elbows.
The best part is that these creams are inexpensive and readily available. At Drugstore.com: Foot Creme for $5.03, and Hand Creme for $4.76.