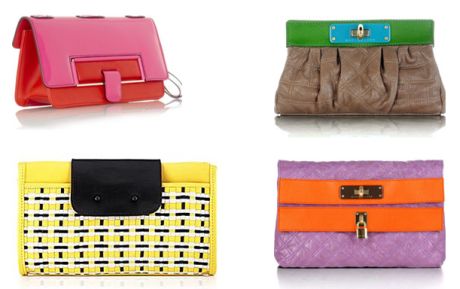 Chloé Ines Box Clutch $1,380/Marc Jacobs Quilted Soft Pouch $695
3.1 Philip Lim Gigi Woven Clutch $495/Marc Jacobs Quilted Oversized Pouchette $1,275
Not that you could ever tell by taking a peek inside one of my handbags, (where you are sure to find a potpourri of gum, eye shadows, Gelly Roll pens, agendas, hair pins, compacts and the list goes on) but I am actually a hyper-organized gal! I just happen to feel better knowing I have everything I may need just below my shoulder. Needless to say, I am all about toting an oversized bag!
That said, when summer rolls around I tend to shed the big bags for smaller ones. There is something about the heat that makes carrying around a handbag that weighs as much as a small suitcase, too unappealing. Which is why I am absolutely thrilled that there are so many new, bright, bold clutches. I am loving the new styles from the always fabulous Chloe, Marc Jacobs and Philip Lim. Fuschia, yellow, vermilion, scarlet, seriously, what could be more perfect for washing away the cold weather blues! Paired with a simple black or gray summer dress, a bold clutch is just right for that touch of pop – fantastique!
What about you, how do you lighten up your bagload for the summer season?