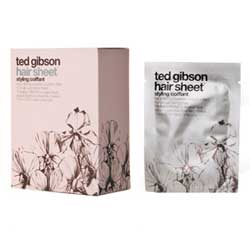 I love online shopping, and I'm thrilled that I can now find so many premium brands on the internet! Remember the old days when you had to actually wait the next day for stores to open? Now I shop at midnight when all is quiet, and I can really focus. Spalook.com just started carrying Ted Gibson hair products, which is quite exciting as Ted Gibson is an amazing line of luxury hair products. Especially the super convenient Hair styling sheets
. What a neat and convenient way to restyle your hair on the go! I hate the way my hair looks after a long day, so I love that you can keep them in your purse for anytime you need them. Check out SpaLook.com to see the entire Ted Gibson line!
In addition, Spalook.com is offering these great discount promotions: (after the jump).

Get 15% off your $100 or more purchase at spalook.com. Coupon Code: Spa15
Get a FREE 5-piece Peter Thomas Roth deluxe sample set (a $33 value) when you spend $125 or more. Code: APTR
FREE Phytomer Kit when you spend $50 or more. Enter code APSE for Supreme Exfoliating or code APPM for Perfect Moisturization.
Get 10 free Dermalogica AGE Smart samples with any order of $99 or more. Limited-time offer. Code: A10AGE