Born in San Francisco, to a fourth-generation Chinese-American family, Derek Lam
spent his childhood among the racks of clothes his parents imported from Asia. He especially adored the wedding gowns at his grandparents' garment factories and spent many happy afternoons with the seamstresses there. Little did he know, his destiny was being shaped, as he tirelessly watched stitch after meticulous stitch. I first met Derek in 2005. He was in his second year of showing his collection and had not yet signed on as Tod's creative director. He was soft spoken, sweet and accommodating. I was so enamored with him and his beautiful clothes that I became a dedicated Derek Lam fanatic, picking up pieces each season. Of course, I've also been a Tod's bags and shoes junkie since college (Tod's platform boots circa 2002? I have 5 pairs!) so there was no one more excited than I when it was announced that Derek would be heading up the classic Italian brand.
We met up again last Wednesday at a brunch co-hosted by Tod's and one of my closest friends, Kimberly Whitman. I stole Derek away from the other guests, so that we could catch up and give our readers a chance to meet him, up close and personal. Jump to see the entire interview!
Softy Messenger bag and tote in python. Call Tod's 214-363-6600 to order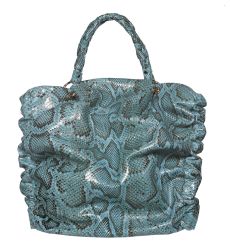 The Softy messenger tote in limited edition color to celebrate Tod's in Dallas.
Bag Snob: What is the difference between the Derek Lam "girl" and the Tod's "girl"?
Derek Lam: The Tod's girl is sporty, sexy, carefree, and she lives for her espresso. The Derek Lam girl is mysterious, a bit naughty, sexy and flirtatious, and she lives for her cocktail!
Bag Snob:
I am definitely a Derek Lam girl. I am not sporty, and I can't drink coffee! My partner, Kelly, is a Tod's girl–she can't function without her coffee, and she's sporty. Derek Lam clothes fit me perfectly, and I love the new line of ready-to-wear you've created for Tod's.
Derek Lam: I was about to tell you how great you look in this top. Look at you–you are so tiny!
Bag Snob: You picked it out for me, remember? It's still one of my favorites! I was still nursing and needed pretty clothes that weren't restricting.
Derek Lam: Right, of course. You had just had a baby!
Bag Snob: He is huge now, three years old, baby no more 🙂 And I've started a network of Fashion blogs since then.
Derek Lam: Amazing. The internet is the future. It's all happening there.
Bag Snob: Which is why you have to appear on our new show!!!
Derek Lam: E-mail Risa, and ask her to check my schedule. It sounds like fun.
Bag Snob: (pulling out my BlackBerry) OK, my readers are e-mailing questions for you, live. How cool is that?
Derek Lam: (peeking into my phone) They are? What do they want to know?
Bag Snob: Lauren M. wants to know "Who or What is influencing your designs right now?"
Derek Lam: (furrowing his brows) Hmm, I'd have to say photographers. Especially Guy Bourdin. Most outside the industry do not know him, but he is a great source of inspiration to me.
Bag Snob: Has being the creative director of Tod's influenced the Derek Lam line and vice versa?
Derek Lam: I have definitely been influenced by Tod's, as Tod's has, by my sensibilities.
(Derek Lam Isolde Tote $1,695, I just ordered one this weekend, at ShopBop)
Bag Snob: I've noticed your bags of late are a bit more streamlined. And Tod's bags are edgier.
Derek Lam: Exactly! I've always detested logos. I prefer interesting design, minimal hardware and low-key luxury. Which is also Tod's aesthetics, and made the partnership a good fit.
Bag Snob: Do you use the same factories to produce both lines?
Derek Lam: No, we keep the manufacturing separate. I use the same places I've always used for the Derek Lam line.
Bag Snob: How often do you go to Italy?
Derek Lam: I go all the time. I'm going next week!
Bag Snob: So, do you still have time for trunk shows?
Derek Lam: Absolutely–trunk shows are still important to me. Talking to my clients in different cities, being in cities like Dallas–it's fun.
Bag Snob: What do you bring on the airplane with you?
Derek Lam: I always bring my iPod.
Bag Snob: That's it? No cashmere blankie, ear plugs, eye covers, etc?
Derek Lam: (laughing) No, no, all I need is my music. (Classical music is his favorite!)
Bag Snob: So, do like girls swarm you when you're running through the airport?
Derek Lam: (more laughter) Not at all. It's very normal. I go about my business. No one treats me any different.
Bag Snob: But you're Derek Lam; you're one of the most talented designers of our time! Plus, now you're the creative director of Tod's! By the way, what has changed since you started working at Tod's?
Derek Lam: My life hasn't changed. I am just busier. But work is work.
Bag Snob: You are so humble. You're a rock star to me! I'm always so excited to see you! Where is Jan by the way? Is he with you? (Jan-Hendrik Schlottmann is Derek's longtime business partner.)
Derek Lam: Yes, he's here in the city, but not at the event yet, though I thought I just heard his voice.
Bag Snob: Who would you credit as being your mentor? How long did you work at Michael Kors?
Derek Lam: I worked for Michael for a total of 8 years. Michael definitely had a huge influence on me and taught me a lot, but one can not rely solely on the past. I feel one has to constantly be in the moment and live or die on their own experiences.
Bag Snob: The last time we spoke, you told me your sister inspires you when you design your line. Do you have any other muses?
Derek Lam: I find inspiration everywhere! Walking on the streets of New York City, from all women, including my staff (you've met Jeanine), I experience them all and am influenced by them. (Bag Snob note: Jeanine Elias is the President of Derek Lam.)
Bag Snob: Your favorite vacation spots? And how do you relax and unwind from work?
Derek Lam: You know, Thailand is still my favorite spot in the world. I think we talked about this last time. I love Phuket, The Aman…
Bag Snob: Puri! I love Aman-Puri. When were you last there?
Derek Lam: We just got back from there. We go once a year. I am so relaxed and happy there.
Bag Snob: I agree. I love Thailand, too. All of Asia, actually. Do you see your family often?
Derek Lam: Yes, I try to go to San Francisco, as often as I can.
Bag Snob: I am Chinese, too, and can only imagine how your mother reacted when you told her you wanted to be a fashion designer instead of an engineer or doctor. How did she react?
Derek Lam: You know, she still worries. After having my own line for 5 years and now working with Tod's, she still asks "Is this a stable career?" But, for the most part, she is very supportive. She always taught me to have passion for whatever it is I am doing and most importantly, to be happy doing it. Which I am.
Bag Snob: Dream dinner guests to have at your home and why? (alive or posthumous)
Derek Lam: That's a tough one; there are so many I'd want to have! Coco Chanel for one…. but let me get back to you with my list later, so I don't miss anyone.
Bag Snob: Here is another e-mail from a reader: "What was the last book you read?"
Derek Lam: I am reading "Beautiful Boy" right now; it's a book about a journalist's son, who is a drug addict. I can't remember the author's name, but it's on Oprah's Book Club list.
Bag Snob: I will get that to read next. What is your favorite book of all time?
Derek Lam: "Tender is the Night."
Bag Snob: F. Scott Fitzgerald! I adore him! I just mentioned "The Great Gatsby" in a post I did this morning!
Derek Lam: How funny! Yes, his books are great.
Bag Snob: Describe your morning routine. (When do you wake up, do you work out before work, coffee habits, etc.)
Derek Lam: I usually wake up around 7:00 a.m. I am very regimented. I eat oatmeal and read the paper. I go to the gym for about an hour, and I have another breakfast after working out, usually soup and a shake. I arrive at the office by 10:30 a.m. on most days.
Bag Snob: Best gift you ever received?
Derek Lam: (Deep in thought) Hmm… I have not received it yet. (laughing)
Bag Snob: What was your childhood ambition? Did you always want to be a designer?
Derek Lam: As a child, I always wanted to grow up to be an artist.

Bag Snob: Do you paint now?
Derek Lam: No, unfortunately. I do not have the time.
Bag Snob: Last, but not least, what is your favorite Tod's bag for fall?
Derek Lam: Oh, it's a luscious nude crocodile doctor bag that you have to have! It has a pinkish, nude tinge to it–just amazing.
Bag Snob: Oh My Gosh! I love croc … I can't wait to see it. Thank you so much for catching up with me. I can't wait to go back and share all of this with our readers.
Derek Lam: It was great seeing you again, too.
Toward the end of the event, I flitted about with the electric blue trench coat from Tod's this spring, and Derek exclaimed, "You wear my clothes so well. I love the way you carry it off! Tell your readers–YOU are my muse!"
That's just about the best compliment a girl can ever receive, don't you agree?
(Tod's Blue trench coat: A Derek Lam signature for Spring 2008. Call 214-363-6600 to order!)