I was recently interviewed by the Dallas Business Journal and asked what bags I would pick for current candidates or candidates' wives. Kelly and I never discuss politics or religion on Bag Snob, but picking out bags is about fashion, no matter who it's for, right? So, here are my choices (The bags were chosen based on their fashion styles, and is in no way indicative of our political views.):
Who: Cindy McCain
Bag: Hermes Kelly
Why: She seems very ladylike and looks like she goes to many luncheons and teas. The Kelly bag is a stylish, but conservative statement. It is a classic that will never go out of style.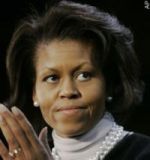 Who: Michelle Obama
Bag: Bottega Veneta Tri-compartment Tote
Why: She has young children, and a Bottega tote will be functional and stylish while campaigning and traveling with her husband or tending to her children. Bottega is the ultimate in quiet luxury and very appropriate for an aspiring First Lady.
Who: Hillary Clinton
Bag: Oscar de la Renta Doheny Clutch
Why: Because she doesn't seem like a woman who wants any fuss. The Doheny Clutch is a bold and powerful statement, but still feminine. It will carry her from luncheons to power meetings without missing a beat. It is large, and she'll be able to have her BlackBerry, notebooks, etc., with her at all times.
What about you? What bags would you choose for them?