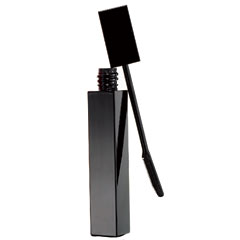 I never gave the cosmetics line much thought when it first came out 2 years ago because frankly, I think people should just stick to their strengths and for Serge Lutens, it is of course fragrance. I was at Barneys with 2 of my girlfriends and we were heavily persuaded by the sale associate to try the "best mascara in the world". Come on, how many times have you heard that? I know my beauty stuff, I don't

fall for claims by make up counter girls. Being the big skeptic, I passed and just wanted to get upstairs to shop for my dress that I need for the Sex and the City premier in NYC(which is tonight!), but my friends wanted to try the mascara so I had to hang around.
As soon as I saw them with this mascara on, I was like, "Where the heck did those lashes suddenly come from?". I really could not believe what I was seeing and of course had to try it myself. The applicator is one of those comb deals, which I normally do not like, but with this formula it works best. The mascara needs to be combed through your lashes and it binds to every part of the lash from the root up, the amazing thing is that it curls them instantly – you can see that happening as you are applying. It not just builds up and thickens, it articulates and defines, and of course lengthens like nothing you've ever used. I looked like I was wearing falsies because my lashes became so pronounced. It has won numerous awards as well as editor's choice in countless magazines so I guess I should have taken notice much sooner but like I said, I was like, what does a scent maker know about making my non-existent lashes luscious and thick? Apparently, a lot! Before you run out and get this, I have to give fair warning. You don't need to use a lot of this, I was instructed as such but did I listen? No, I went home and tried to glop it on and made a total mess. It goes a long way, dip it in only once for both eyes and slowly comb and brush with much diligence. $60 at Barneys New York and believe me, it is worth the extra few bucks.