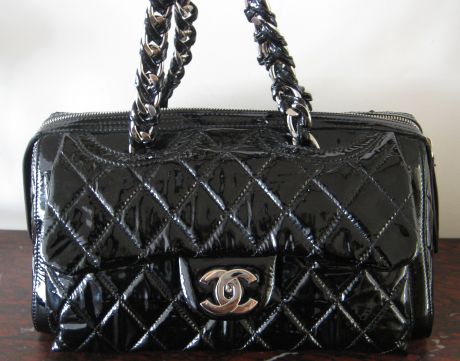 There is nothing quite like indulging in Chanel while in Paris. This is the second bag I purchased, it's from the summer collection but I plan to use it in the fall. Summer hasn't even officially begun yet I am already buying my autumn/winter pieces.(I also found a fabulous black Chloe baby doll wool swing coat that I had to have!) I've been searching for the perfect black patent bag for a long time. I loved the tri compartment black patent bag from Chanel a few seasons ago but it was too big and the chain too heavy so I passed. Good thing because this season's version is smaller and has a new funky and lighter chain which is much better suited for me (but the bag is still quite large!). Check out how the leather is braided around the chain, very edgy and chic! The two cut outs on the front flap is also a clever way of showcasing the new chains. This will be my everyday bag in the fall, the front and back pockets are generously sized and easy to access but are secure with clasps. I can't wait to use it so I took it out for dinner last night, with an all white outfit, the contrast was crisp and modern. Maybe it will be my summer bag as well! The Patent Calf Flap bag is around 31 cm and cost 2275 Euro. Call Jessica 01-5305-9895 in Paris or Alexis in US to order 214-520-1055! Jump for more pictures!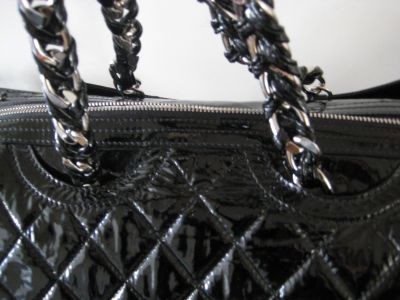 The unique wrap on the chain gives the classic a modern twist. See the little openings where the chains are? Another small detail that gives the bag further chic-ness.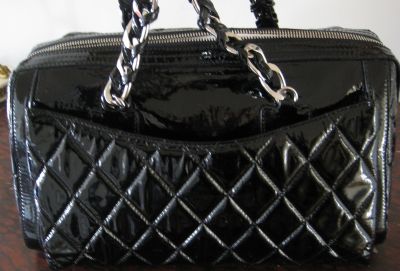 I love the big outer pockets in front and back, it allows me to be efficient and organized.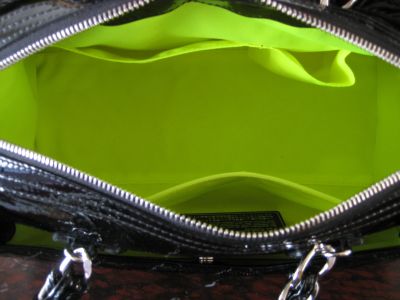 Should you worry I am getting too dark with my color choices lately, check out the very neon green interior!