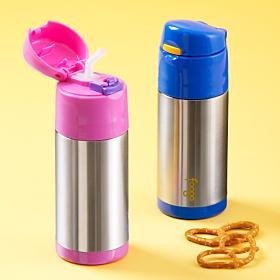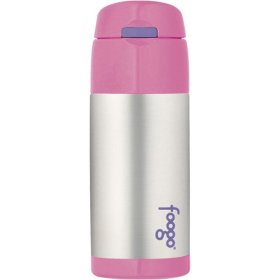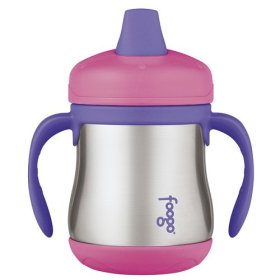 Foogo by Thermos Leak-Proof 12 oz Straw Bottle
$34.99; Foogo by Thermos Leak-Proof 7 oz. Sippy Cup with Handles
$14.39; Foogo by Thermos Leak-Proof 10 oz Food Jar
$15.
Road trips and beaches in your near future? You have to have these totally practical and cute Foogos for meals and beverages. I am kind of glad it is summer break because I no longer have to worry about lunches but now I have the bigger headache of entertaining a 3 year old 24/7. I have many beach trips, picnics and short road trips planned but that also means really bad eating habits when we do this. Well, this summer I am going to make sure I pack good healthy lunches in the food jar when we hit the road. And you do not need to rely on box juices – I have discovered the best thing, spa water. Cut up cucumbers, strawberries and mint and throw it into a pitcher with water and your kids will think it is juice. I love it for myself and am happy that my kids think they are drinking something yummy. Spa water is perfect for these bottles to keep it cool and refreshing. And when summer is over, you go back to packing lunches in them. Foogo by Thermos Leak-Proof 12 oz Straw Bottle
$34.99; Foogo by Thermos Leak-Proof 7 oz. Sippy Cup with Handles
$14.39; Foogo by Thermos Leak-Proof 10 oz Food Jar
$15 at Amazon.