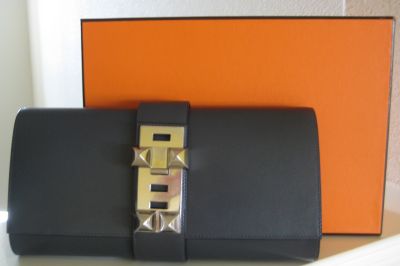 Medor clutch at Hermes, call Craig– 214-528-0197, he has lots of colors!
A clutch by any other brand would merely be a clutch. The Medor clutch from Hermes, however, is a stunning piece of sculpted art with multiple functions to boot. I picked one up yesterday in ardoise (a beautiful shade of dark gray) with palladium collier de chien hardware and have not stopped playing with it (notice how chic it looks with the scarf as shoulder strap– transforming it to an instant shoulder bag!) I was going to wait until I arrived in Paris (Monday!) to get it but decided to grab it now considering the weak greenback against the Euro. My Medor clutch is made of structured veau box which will age and patina beautifully, it's lined in chevre and has an interior pocket. A generous size at 11 1/4″ x 6″, my giant Hermes Kelly wallet ligne fits in it perfectly along with my cell and lip gloss. The hardware is actually adjustable and allows me a few more inches should I want to stuff my make up bag in there, too. I am a punk rock child of the 80's; I love the chunky stud detail and have my eye on the Collier de Chien belt in black– which I hope to bring home from Paris among many other things. Have a lovely weekend everyone. I'll see you in Paris! (Jump for more pictures!)
I love using scarves and wrapping a scarf around the clutch makes it an easy shoulder bag to run around with! The Medor clutch also comes in black box, chocolate, and several other colors with palladium or gold hardware. Call Craig, 214-528-0197, he just got a shipment in this week!
The back of the Medor clutch is perfectly sleek and chic. On days you don't want to have all the metal you can flip it around.
The hardware allows you more room if needed, just go up or down on the bar and the clasp will slide down.
Chevre (goatskin) interior. The interior pocket for valet tickets, I always lose mine in a big clutch!
Fold your scarf from either end toward the center to get a perfect 2 inch strap to wrap around the bag. You can do this with other clutches but make sure it is structured so the center does not collapse.