"bringing beauty to you"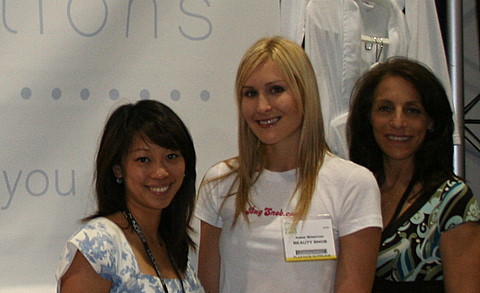 Left: Stephanie from MML PR- Beauty Snob Anne, -and Allison, the founder of Spa Connections, at BizBash Style Expo.
This is the ultimate in pampering, it does not get better than a spa that will come to you! Spa Connections is a company that sends anything and everything beauty right to your door. If you live in the LA area you know that "car culture" is a term that was coined in SoCal for a reason, we drive everywhere! With the gas prices continually escalating and the ever present LA traffic, it may be worth your while to order your massage and manicure to go. The massages are simply divine!–(ask for Travis!)– Spa Connections offer services ranging from fashion consultation and fitness training to spray tanning, waxing and makeup applications. They also offer gift certificates which make amazing gifts for fellow Beauty Snobs! They also do parties… so if you are throwing a bridal shower, baby shower or birthday party make it memorable with a beauty Treatment from Spa Connections!