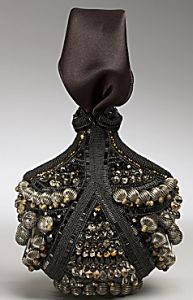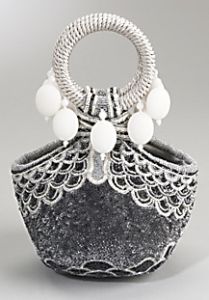 We'd like to take a moment and introduce you to our newest advertiser, Couture Lab. It is the brainchild of one of the original founders of Net-a-Porter, Carmen Busquets. Couture Lab offers one of a kind, offbeat items that transcends time and trend. The site is not intended to please the masses, but rather, for the few who crave items that will tantalize and thrill. Like the Bea Valdes clutches made especially for Couture Lab.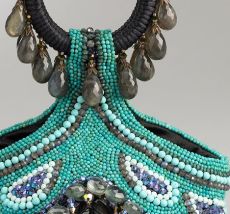 I am obsessed with the Marharlika evening bag. If it were any bigger, it would be garish but in a tiny size– it's a glittering jewel of a bag. The beaded details are lavish but appropriate for an evening bag and the little tiny feathers add whimsy and fantasy. I am not one to love such embellished bags but these are so uniquely ornate that I couldn't help but admire the imagination and creativity it took to create.

"We want to sell products with a story and tradition behind them; there is a world out there far bigger than fashion," Busquets says. She adds that each piece of CoutureLab merchandise has some sort of traditional technique or artisan's skill behind it, noting the weighted hemlines of L'Wren Scott's handmade black dresses and the fact that an Ethiopian chair is carved from a single piece of rosewood.
I love browsing through the site, it offers items that I have never seen before and allows me a taste of luxury beyond seasons and trends. Please check out the site if you have a moment! Bea Valdez clutches start at $2,540 at Couturelab.com
Source: Couture Lab and W