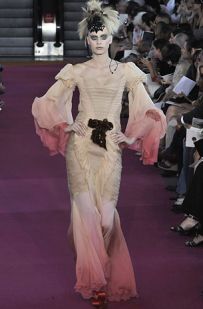 Another reason for me to long for the City of Lights,,, at the risk of being banned from the New York shows forever, I have to say Paris Couture Week makes NY Fashion Week look like amateur hour. Hand engraved "Save the Date" invitations started showing up in my mail box from Armani Prive, Givenchy and others a month before the shows (whereas most of my NY fashion show invites would arrive a day before or worse, a week late). I was invited to the Christian Lacroix Couture show at the Centre Pompidou in Paris this week but could not attend as I am already back home in the States tending to personal business.
I was also invited to lunch at the Lacroix atelier with Monsieur Lacroix himself (hosted by the fabulous Becca Cason Thrash) but I had another engagement and arrived in Paris the day after the event. Needless to say, I really have to plan my trips better next season. So I am relegated to drooling over the gorgeous creations of his latest Couture collection while sitting at my desk, but at least I was promised a viewing in person when the collection travels stateside. The private world of Haute Couture has fascinated me for years and now with the guidance of a few of my collector friends, I may be ready to take a swan dive into its gilded world. Did you know that seasoned Couture clients are never late to a show? Mostly because they want first dibs at the clothes. Unlike ready-to-wear, where mass production rules, once an item is spoken for in Couture– you can rest assured that no one will be able to buy it again, ever. As for Couture bags, it is the ultimate indulgence for bag snobs! (jump for more pictures!)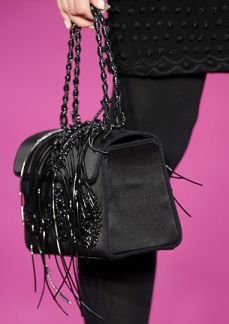 Couture bags receive the same attention to detail as the dresses they accompany. Until you see one in person, you really can not appreciate the amazing workmanship it entails.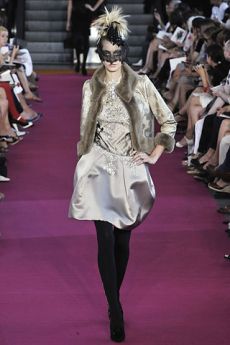 As you can see, Haute Couture is not merely ball gowns and other fantasy wear, there are also delightfully wearable dresses and suits for day or night. So if you feel like indulging, forget off the rack ready to wear, go couture!
Monsieur Lacroix showed once again his unparalleled mastery at drama and haute couture details with another grand collection. The bejeweled mohawks, lace covered faces, feathered boleros, layers upon frothy layers of tulle and satin, c'est sublime! Couture is not merely fashion; its creations are timeless and yes, often excessive, but its beauty is unrivaled.

Photos: Lacroix