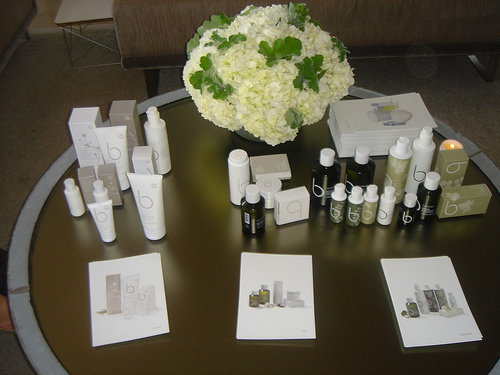 Many of you probably know Bamford as a luxury organic clothing label. Bamford was started by Lady Bamford who besides bringing us wonderfully fashionable organic clothing also brought us organic food from her farm in the Cotswolds and now, she brings us a range of organic and natural body care products! Bamford Body will be available stateside come fall at Neiman Marcus and Barneys (and tentatively by the end of the year on their website). I had a chance to check-out some of their products at the Soho Grand this week! Bamford Body Collection is all-natural and unisex. I love that both the scents and the packaging lend themselves to both men and women and unlike so many products these days that are heavy on the fruity scents and lavender, Bamford's line is made of rosemary, chamomile, geranium, and eucalyptus (all traditional English scents). The whole line right down to the packaging is very clean and fresh. There are several lines within the Bath Collection that offer luxurious products for bath, body, and baby. The organic products meet the highest organic standards possible and the botanic ingredients and essential oils are wonderfully pure. For any mamas or those expecting — the baby products are great for protecting precious little tot skin! Another great little tidbit is that all of Bamford's packaging is degradable, recyclable, and they use the most sustainable materials available for each individual product, sourced from local UK and European suppliers. Read more for info on their various product lines that most-certainly embody modern luxury at its finest:)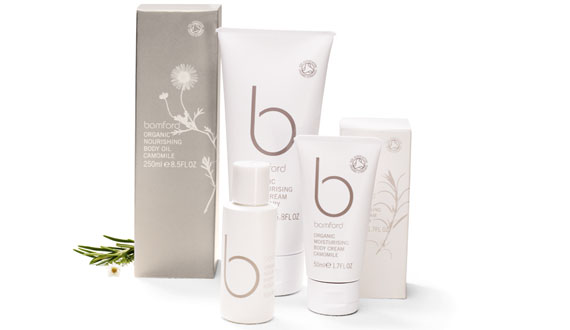 Bamford's Organic Collection
All the ingredients are harvested responsibly and made in England and certified by the Soil Association and 95% of the ingredients are fully organic. Body Creams are scented with Rosemary (if you love Rosemary, you'll love this — very strong, clean smell — love this for a man), and Chamomile (this a lot more delicate than Rosemary — very refreshing), for the body, hands, and feet, and Nourishing Body Oils for skin, bath and massage (I dabbled a little bit of the various oils on my hand and unlike the typical oils they were not overtly greasy which was nice). Prices are $24-72.
Bamford's Botanic Collection
Essential oils and the highest quality plant extracts define this line. All ingredients are GM-free and harvested responsibly. The collection contains no parabens, mineral oils or sodium lauryl sulphates, and is free from synthetic fragrances and artificial coloring. Prices range from $12-72.
Bamford's Organic Baby Collection
Bamford says that they use only the purest of natural ingredients to create remedies that young, delicate skin understands and that small batches, produced in England, ensure freshness and carry the Soil Association's certification, which guarantees that over 95% of the ingredients are organic. Prices range from $28-56.
Bamford's Holistic and Ambient Collection
Bambord has recognized the holistic power of plants and flowers and they say that through this line you can get a sense of luxury and well-being to permeate the spaces you inhabit (unfortunately they didn't have any samples for us to test-out at the event, but I can't wait to see this line stores!). Prices range from $24-90.
While you can already get these products in England, you will have to wait till November to get them at Neiman Marcus and Barneys — in the meantime keep shopping their fab organic clothing line!:)