SpaRitual has just launched some new moisturizing lotions and bath salts! Besides smelling and feeling great (looove Eucalyptus..more on that later in the post!), the lotions are 83% USDA Certified Organic, paraben-free, and infused only with consciously sourced Organic Essential Oils (Australian Eucalyptus, Egyptian Geranium, and Somalian Frankincense), and Instinctual Organic Bath Salts infused with Madagascan Ginger Oil. This line is great because it mixes amazing quality with an eco and spirit-conscious philosophy. SpaRitual claims (and something about the way their creams smell makes me agree…), that their lotions calm the mind, relax the body and recharge the spirit. Read more for a mini-rundown on some of their stand-out products!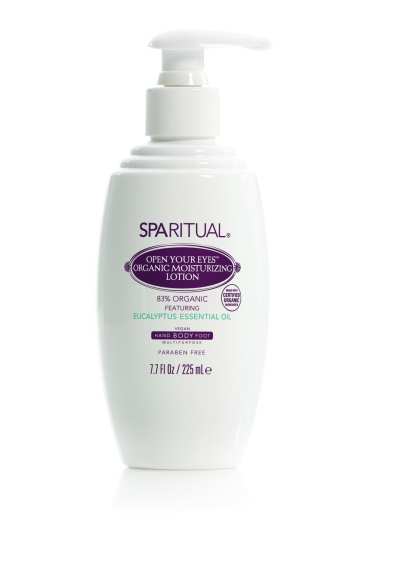 Open Your Eyes Organic Moisturizing Lotion ($28) — this is by far my favorite…(even though, I admit the line could use a spruce-up when it comes to packaging). Every time I smell this lotion I take a deep breath and take-in the refreshing Eucalyptus smell (not that I'm into camping, but something about this lotion makes me wanna slap on a pair of hiking boots and tackle the outdoors!:) ). Open Your Eyes Organic Moisturizing Lotion is made with Eucalyptus Essential Oil which is an immune system booster, eases congestion, headaches, fatigue, muscle aches and pains, mental sluggishness, and combats on-coming colds. SpaRitual also claims that its cooling and deodorizing effect helps with fevers, migraine and throat troubles.
Also in this line is Close Your Eyes Organic Moisturizing Lotion ($28) which is made with Geranium Essential Oil, which SpaRitual says equalizes oily or dry skin, balances the hormone system, combats fluid retention, and helps fight cellulite.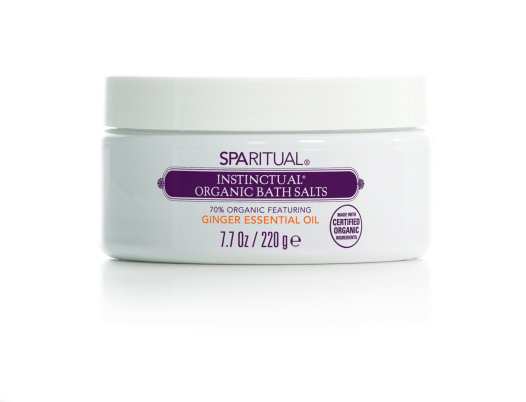 Also with Geranium SpaRitual has Close Your Eyes 21 Mineral Bath Salts ($22), which are great for when you have time to take a nice, long bath. Lastly, they have 2 products I loved that were made with Ginger. One is Instinctual 21 Mineral Organic Bath Salts (70% Organic Vegan ingredients, $22), which again is diviiiine in a bath and the other is another lotion — Instinctual Moisturizing Lotion with Wildcrafted Indonesian Ginger ($28). Besides the mind, body, and health benefits, I love the originality of using ginger (though the ginger smell made me think of sushi, which is literally all I could think of eating after lathering- on this lotion!). The benefits of Ginger include easing cold and flu symptoms, nausea, motion sickness, muscle aches, and pains as well as poor circulation. The extract is also said to ease feelings of loneliness and depression.
All SpaRitual Moisturizing Lotions are made with certified organic and vegan ingredients sourced with awareness. They products are also biodegradable, free of synthetic dyes, fragrances, parabens, and petrochemicals and they have quiet the celeb following (Jessica Alba, Rachel Bilson…). Check-out their site for more info or (if you're lucky!), spas as the Mandarin Oriental and Four Seasons which carry their products at various locations around the world.