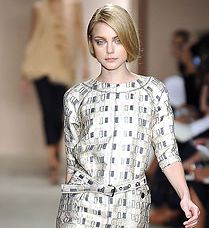 We were invited to go backstage at Derek Lam last week and of course jumped at the chance to see the action behind the scenes. The show was off tents (many of the shows we attended were away from Bryant Park which made it very difficult for us to stick to our schedule; uptown, downtown, we spent hours each day in cabs!) at the Waterfront on 12th Ave, way west if you want to know and way far but it was Derek so who are we to complain? It did not help that the day started with torrential rain which we got caught in but at least we were lucky with cabs and though soaked, we arrived in time to watch Orlando Pita work his magic on the girls. Derek was inspired by a short bob haircut and wanted all the girls to have the same sleek do but chopping off a dozen of the hottest models' hair was not an option so Orlando created the bob look with a few spritz of T3 products and a lot of imagination. (Jump for more!)

As he worked expertly and quickly on the models, I was able to Orlando a few questions about the inspiration and how to achieve this look at home. Watch how he pins and tucks the girls' hair under to create the illusion of a short boyish bob. He first used T3 Plump to give texture to the girls' hair while blowdrying. Next, to make it easy to style he added the new Elevate– a flat iron volumizer. Last, he separated the hair into two low ponytails and using bobby pins and T3's new heat seeking hairspray- Control, he was able to pin tuck the girls' hair under and create the illusion of a short cut.
You can definitely try this look at home, just make sure you straighten your hair with a good flat iron, apply volumizing product so it's not too slippery, and have plenty of hairspray and bobby pins on hand. Orlando also used a new limited edition T3 hair dryer in bright candy apple red (available at Barneys this month) that we are hoping to give away to you. Stay tuned!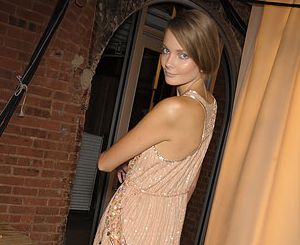 The finished result– a sleek and short bob! You would never guess she started with long hair down her back.
T3 360 Elevate $19– Sold at Ulta, Nordstrom, Sephora, Henri Bendel and Fred Segal Studio starting in September
T3 360 Control $19 Sold at Ulta, Nordstrom, Sephora, Henri Bendel and Fred Segal Studio starting in October.
All Photos: Bagsnob.com