Guest blog by Julia Dinardo of Fashion Pulse. Julia will be offering us Cheap and Chic options of current bag trends each week!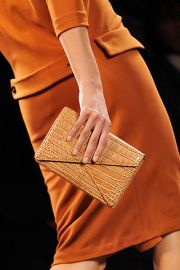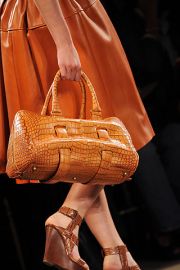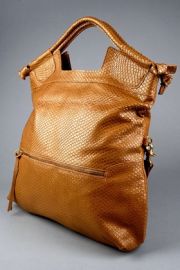 Left and center: Bottega Spring 09. Right: Foley Corinna- cheap and chic option
It was hard not to notice the array of luxe, exotic skin bags that firmly rested on the arms of the models for the Spring 09 season. From tiny clutch proportions to doctor's bags, expensive skin is definitely in. We were happy to see that most designers didn't go overboard with the look by incorporating crazy patchwork and bright colors, that can cheapen the aesthetic. We found snakeskin to be quite prominent, along with croc and gator being close runners-up.
We absolutely love the burnt orange/cognac color of the Bottega Veneta clutch handbag, spiced up with angular cuts straps that ran the width of the bag. At Giorgio Armani, we saw large snakeskin bags that proved to us that luxury is not dead – at least not as far as handbags are concerned! Burberry Prorsum also put out a nice collection of soft handbags while still incorporating high-end fabrications; our favorite was a toss up between the delicate patchwork tote or the envelope clutch trimmed in smooth leather. We scouted around for some affordable versions of the exotic skin trend, and found several suitable bags that accommodate both our evening and everyday bag needs.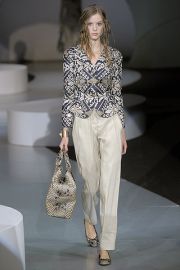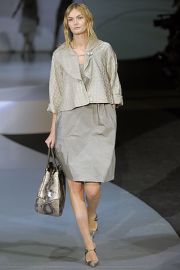 For starters, we were immediately drawn to the Diane Von Furstenberg "Raquel" Drop-Bottom Boarding Bag ($100, Macy's), as we already have the same style bag by DVF, and use it both for weekend getaways, and toting our laptop and daily essentials to and from the office. The faux-croc trim gives us just a taste of an exotic skin, without going into overkill mode.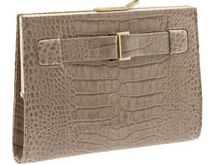 Next, we couldn't resist the Abas 'Hannah' Crocodile Embossed Frame Clutch ($198, Nordstrom); and would love to have one in every shade! We also decided on the spot that the Beirn Snakeskin Envelope Clutch had to be ours ($260, Vivre.com). The watersnake skin looks amazing even in a hot pink color. If you want to supersize the exotic skin look, we found the popular Foley + Corinna Mid City Tote Bag in copperhead snake for $444 at Tobi.com and the Nine West "Great Find" Medium Tote ($66.75, Macy's). So choose your skin, real or faux, and get to shopping!
Julia Dinardo is the founder/editor of Fashion Pulse — visit the site for daily updates on trends, runway collections, industry buzz, beauty, and more!