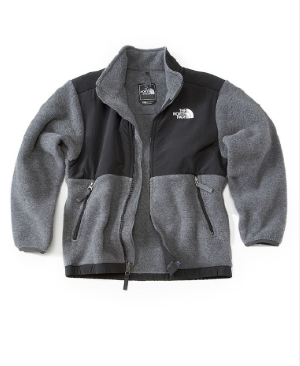 Ed Hardy Logo Tee , $50; North Face Denali Fleece Jacket, $99
It is a giveaway bonanza this month at Tot Snob! We have a $150 Macy*s Gift Card for one lucky winner. And you can get a lot for $150 at Macy*s, as you can see, I went shopping as well and these are what I got. For boys, I like to stick to basics and as far as graphic tees go, nothing is as cool as Ed Hardy, the logo tees are $50. I decided to splurge and get the North Face Denali fleece jacket – it is something that will be worn all winter and for $99, it is a very good buy.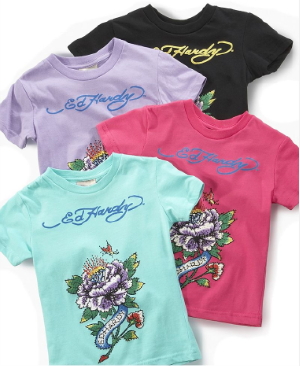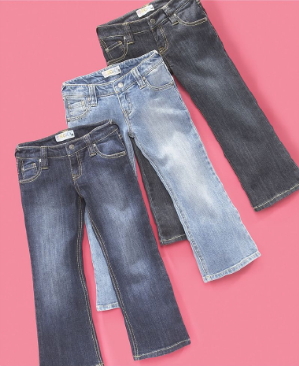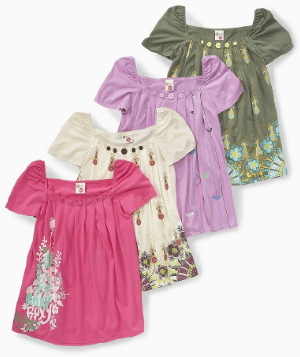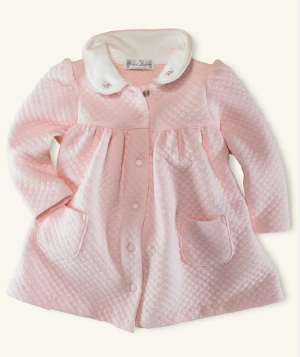 Ed Hardy Logo Tee , $50; Roxy Hummingbird Jeans, $27.50; Roxy Embroidered Pixie tops, $29.50; Ralph Lauren Jacquard Quilted Dress, $40
For girls, I decided to get a bunch of different things. Again, Ed Hardy is always a favorite, for some reason my daughter is really into skull and cross bones but these are a little cuter and less pirate-y ($50). And of course, jeans to go with. I might divulge in certain things but $200 designer jeans for my girls is not one of them. They do no benefit from superior fit, which is what I think I'm paying for when I buy $200 jeans for myself. These Roxy jeans look just as great on little girls and are $27.50. I love Roxy for their cute little tops as well and these Embroidered Pixie tops are easy and fun, $29.50. I have a little baby girl but even if you don't, Polo by Ralph Lauren have the cutest little dresses and make excellent gifts. This Jacquard Quilted Dress is comfortable and absolutely adorable, $40.
To WIN the $150 Macy*s Gift Card, share with us your tot's most memorable or favorite Macy*s Thanksgiving parade float. I had no idea kids love parades so much, I actually Tivo it and my kids watch it again and again. I will pick one winner through a random drawing. Please enter your comments by Friday October 4th at 11:59pm EST. One entry per person, please!