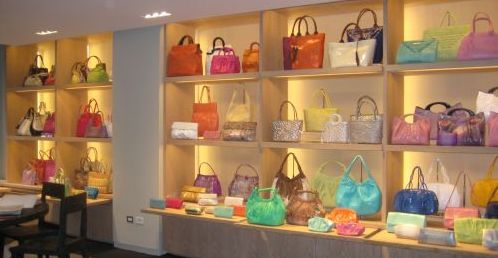 What could be better than capping off a long day of fashion shows in a gorgeous showroom full of colorful and beautiful exotic handbags!?!?! Thanks to Santiago Gonzalez, we were invited to afternoon tea at the new Nancy Gonzalez showroom over Fashion Week– (very exciting considering we were the first press they received at the new showroom, none of the magazines have been there or seen the new collection!). It is hands down the most gorgeous showroom I have ever visited. Full of custom made furniture (all exotic skin of course) and art from Santiago's private collection; it also houses the most extensive line of bags I have ever seen.
I am not exaggerating when I say that I felt like I entered handbag heaven! The kaleidoscope of colors welcomed me as I entered and I almost tripped over my own feet in the excitement of grabbing my favorite bags to photograph. In between bites of scrumptious pastries and tea and chatting with Santiago (we so adore him!) we got the scoop on the latest spring line. Take notes of what you like and call Bergdorfs to order asap. We predict the line will be a sell out before the first bloom of spring. Check out the current Fall line at Bergdorf Goodman!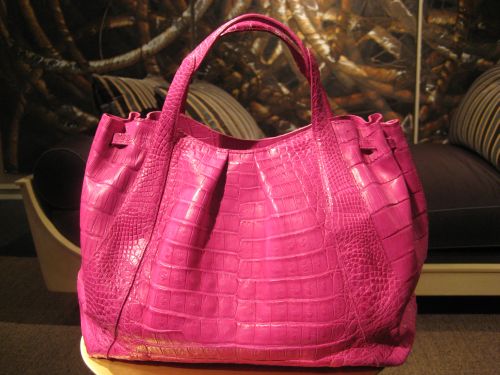 My absolute favorite bag for Spring 2009 is this fuchsia tote, it's youthful and fun, and ultra supple! And yes, I ordered it, how could I not? I got the size 30cm in fuchsia crocodile, Kelly got it in the bigger size (around 40cm) in a soft purple (trend alert- plums and purple remain strong for spring!).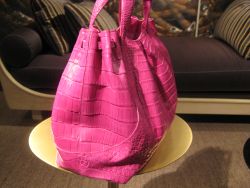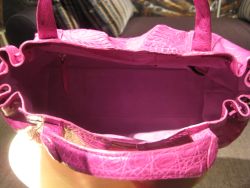 We also ordered clutches in different shapes and sizes, these adorable little clutches are too cute to pass up. Minty green circa 1985 feels very 2009 in a patent ostrich. The box crocodile clutch in degrade pink is girly girl and really shows off the croc scales.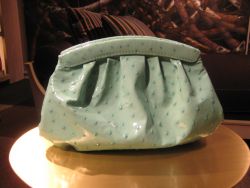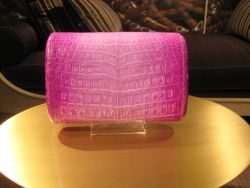 Check out this yummy little bowler bag below. But don't think
it's one of those hard to carry and difficult to open bags, look at the
interior, there is elasticized crocodile skin with magnetic closure! I
got this in purple; Kelly talked me into it because it suited me so
well.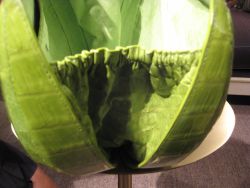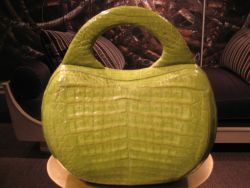 Next up is this patent ostrich tote again in pink (get used to all things bright and pink!), such an innovative way to treat ostrich skin. The big tote is one of their most popular styles and I am sure this one will make a major splash with girls who use their bags like SUVs.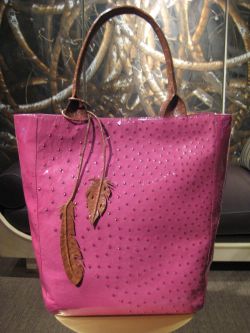 I also love this tote with top handle and removable shoulder strap, great for work or play, it's your everyday grab it and go tote! This is available in crocodile or ostrich with contrasting trim and handles.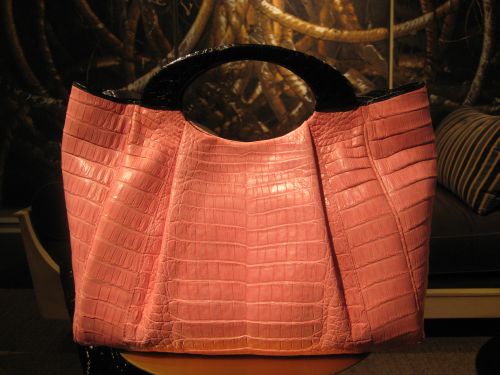 Last but not least, this blue crocodile bag below opens in the center with magnetic closure and a zippered compartment on each side, so convenient for traveling or daily use! Nancy Gonzalez thinks of everything! Her bags are functional, stylish and all women should have one in their bag wardrobe.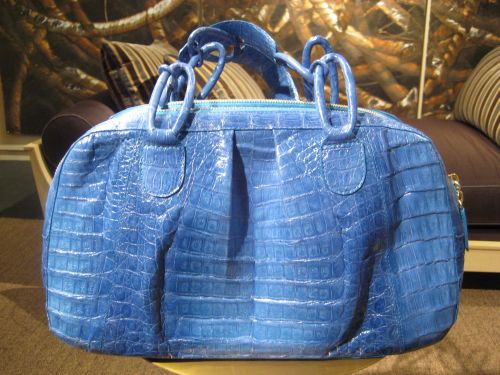 Of course this is not even a fraction of the Spring collection, I will have more in the next few months. Don't want to overload you in one shot!