A photo I snapped of cooking maven Bethenny Frankel backstage at Carmen Marc Valvo.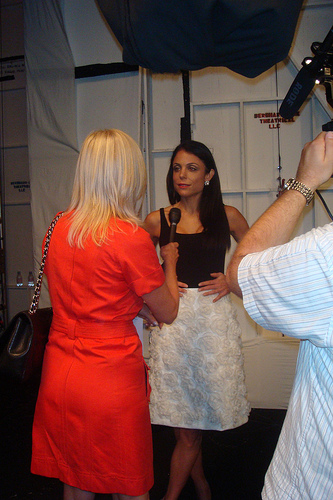 I have a serious aversion towards cooking (and an equally serious love for Bethenny Frankel who I met backstage
at Carmen Marc Valvo's Spring 2009 runway show — she was so sweet dressed in a lovely white flower-embroidered CMV skirt and sky-high Loubies! — Come on who doesn't count The Real Housewives of NYC as a guilty pleasure!?). That said, where my distaste for cooking comes from I have no idea, especially considering that I come from a mother who loves, LOVES, loves to cook and bake (and feed –o Jewish mothers…!). Unfortunately, recently my now live-in boyfriend decided to buy a barbecue (we have a terrace), and all he wants to do is stay-in and barbeque — OY! Nothing will smell-up an apartment quite like barbecuing (not to mention your skin and hair). Luckily I've discovered some new bath products to give me a reason to smile as I rid myself of the BBQ smell. I have an obsession with Vanilla (I've just stalked-up on a bunch of French Vanilla candles –somewhat of a fire hazard given that my apartment has only over-sized wooden furniture), but anyway, I'm loving Lavanila Body Wash , ($20), because as you can probably guess, they're all about the Vanilla and full of anti-oxidants and essential oils, 100% natural and sulfate-free which helps prevent irritation and dryness. I love the
Pure Vanilla, but it also comes in Vanilla Coconut, Vanilla Grapefruit, and Vanilla Blossom.