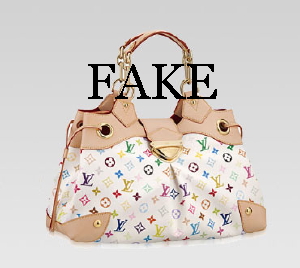 LEFT: Authentic Louis Vuitton Multi-color Monogram Ursula is exclusively online at eLuxury
I recently heard of Yoogi's Closet, well because they are advertising with us now. I have to disclose that but I have to say, I am thoroughly impressed and after reading this, I am sure you will be too. It is a fantastic idea and from my experience working with them, the concept is not only well thought out but the company is extremely well run. They buy your used bags (either outright or on consignment) and then resell them. So of course being the cynic that I am, I asked about their authentication process and what I got was a extremely comprehensive lesson on spotting a fake. The following answer is quoted verbatim when I asked, "How do you make sure you are not buying a fake?". I imagine this is of extreme consequence to them as it is the crux of their business. If they end up buying a fake, their whole model breaks down. Read on…
Stampings. We examine the identifying stamps on leather or metal for consistency. Many fakes have stamps that appear to match the stamps for authentic items but may differ in typography or color. For example, Louis Vuitton stamps may appear black, but are actually dark grey.Many counterfeit LV items have black stampings.
Symmetry. Authentic handbags will have perfect symmetry in the way patterns (such as Louis Vuitton's Monogram pattern) are arranged. An asymmetrical pattern is often a dead-giveaway that an item is a counterfeit.
Stitching. Most manufacturers utilize characteristic stitching in the construction of their goods. For example, Louis Vuitton utilizes spiral stitching in their products, with each stitch segment being at even length.

Hardware. It's often difficult for counterfeits to exactly duplicate the hardware design of authentic items. For example, authentic Gucci Horsebit bags will have complete closed connecting rings while counterfeits will have a break in the rings.
Authenticity Stamps. While many counterfeit items have date codes, we verify them for consistency. Often counterfeits will have date codes that are inconsistent with other stampings on the item. For example, the date code may indicate that the counterfeit item was manufactured in Spain while the stamping indicates it was made in France.
Overall Workmanship and Materials. This requires close inspection and experience handling authentic articles. For example, fake Fendi Spybags will not drape as comfortable as authentic items and the leather will feel different.
Comparison to On-hand Reference Items. This is probably the quickest way to differentiate a counterfeit item from an authentic one. If you can see them side by side, it is easy for someone with a trained eye to tell the two apart.
Huh, was I right or what? That is pretty damn impressive! Now that answers the question of fakes but they also offer the service of unloading your regretful purchases so that you can now go and buy the bag you really want! If you are feeling the crunch lately or just good with money, you can continue to shop by getting cash for those unused bags in your closet. We all have them, now we just have to convince ourselves that we must part with them. Yoogi'sCloset.com